Onkyo CS-545 combo mini hi-fi
CDs, remember them?
Review For music fans who aren't ready to let go of their CD collection comes the CS-545, a mini system from Japanese audio specialist Onkyo. Aside from the disc drive, there's an integrated iPhone/iPod dock, stereo line input at the back, radio tuner with 30 presets each for FM and DAB and an alarm timer. You can plug in a USB memory stick at the front for digital music formats too – more on that below.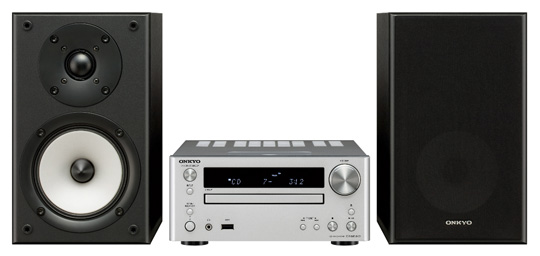 Onkyo's CS-545: available with or without speakers, grilles are removable
The unit is available with Onkyo's D045 two bookshelf speakers or you can opt to use your own speakers with the CR-545 standalone receiver (£245), available in silver or black. The speaker connections have screw terminals and more robust 'banana plug' binding posts, and there's a subwoofer output for beefing up the sound, if you have a spare sub. The D045 speakers are well made, with a focus on mid-range response, thanks to the 12cm cotton and aramid fibre drive unit.
The main unit is easy to use, however, the remote control is ugly and carries 42 buttons, which is about two-dozen too many if you're after ease of use. There are needless and over complicated duplications on the handset, like three play/pause controls – one each for CD, iPod or USB – even though the single one on the receiver works across all modes.
Still, the audio quality is indisputably good. From the esoteric pop of Jonsi to the evocative folk of The Unthanks and Neil Young's fittingly named recent album Le Noise, the Onkyo produces a spacious, warm sound for a relatively small system.
It fares well with MP3s too, especially those at a 320kbps. For example, the two-part title track on Lone Wolf's The Devil and I is a gloriously rich blend of piano, vocals plus a thunderous bassline, and the system never loses a grip of these parts.

Not the simplest of handsets, and look at all those pause/play buttons
The downside of the USB connection is that it only supports flash media, not bigger hard disk drives, and the only formats accepted here are MP3 and plain old WMA – not Pro or Lossless versions – and you can't copy from CD or radio to USB. However, it does play from MP3 players that mount as a mass storage device.