Onkyo CS-545 combo mini hi-fi
CDs, remember them?
---
Aerial view
A docked iPod is the only way the system can play the iTunes default AAC format (copy protected and non-DRM) as well as Apple Lossless and uncompressed WAV or AIFF. Its USB playback is incompatible with these files. That also rules out others such as FLAC, which is a shame given the product's quality aspirations, and if you use an iPod for non-lossy files, it needs to have a huge capacity to be worthwhile. Although it docked with an iPhone without a hitch during the test, a couple of 'vintage' 2005-07 era iPods mysteriously failed to play.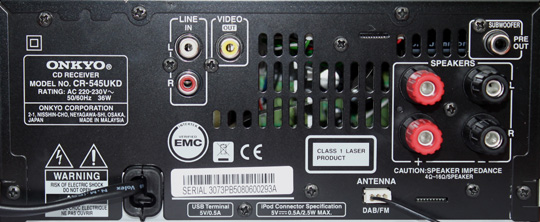 Decent speaker terminals, but no convenient way to attach a 'proper' radio aerial
The digital radio reception on the CS-545 is a bit hit and miss. The only supplied antenna for the UK model is a length of thin wire and the receiver lacks a standard socket for easily attaching an alternative, such as a rooftop antenna.
Compared to radios with rod aerials in the same ground-floor position it fared much worse at picking up DAB adequately, although FM was fine. It worked better upstairs but that wasn't really where I wanted to put it. If you plan to use the DAB tuner, ensure you live in a strong reception area. At least transmissions are being expanded in some regions.
While DAB is a divisive topic, the most adaptable products are likely to be multi-platform hybrids, as James Cridland's blog sensibly explains. It's disappointing that the CS-545 lacks options to stream audio from computers, Nas drives or the internet.
Together with BBC radio's recent launch of higher quality streaming, it's a missed opportunity, though I suspect a network connection in a hi-fi is of little interest to 'typical' consumers yet.