Onkyo CS-545 combo mini hi-fi
CDs, remember them?
---
Quality player
You can overcome this by attaching a netbook or a dedicated speakerless audio streamer, such as the Logitech Squeezebox Receiver or Sonos ZonePlayer 90, to the line input, but that's hardly elegant. If you're the type of person to rip your CD collection in Flac to a Nas drive and then sell the original CDs, this product isn't for you.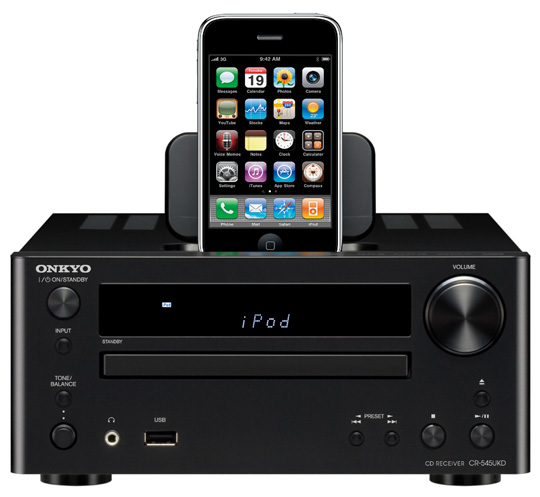 Format support is limited if you don't take advantage of the iPod dock
Verdict
You can spend extraordinary sums on high-end iPod docks, while the opposite end of the market is flooded with cheap and nasty systems. The CS-545 strikes a good quality balance between those extremes, and it's more than a just a dock. Much of its cost goes towards audiophile-grade processing and amplification circuitry rather than state-of-the-art frills.
However, it's undermined by its remote control, potential issues with older iPods and digital radio sensitivity. Ignoring networking to rely on CD, MP3 and iPod makes it all seem a bit 2004. If your taste for the high-tech has moved on from when Dido, Maroon 5 and Norah Jones dominated the charts, then you should look elsewhere. ®
More Audio Gear Reviews…

Group Test
Surround Sound
Amplifiers
Arcam
Solo Mini
Teufel
System 8
THX Ultra 2
Ixos
Divo

Onkyo CS-545 combo mini hi-fi
Mini hi-fi with optional speakers, built-in iPod dock, DAB/FM tuner, MP3/WMA playback from USB and CD.
Price:
£349 (with speakers), £245 (unit only) RRP