This article is more than 1 year old
Android-powered touchscreen Wi-Fi headphones offered
7.1 fondle-cans run Skype, Pandora
With approximately 106 headphone manufacturers battling for mindspace in the marketplace, Nox Audio has come up with a gimmick that hooked our jaded eyes and ears: headphones that run Android.
"The Admiral is a product like no other," said Julie Ma, Nox Audio's president, in a press release promising that her hefty cans will "unleash an audio revolution."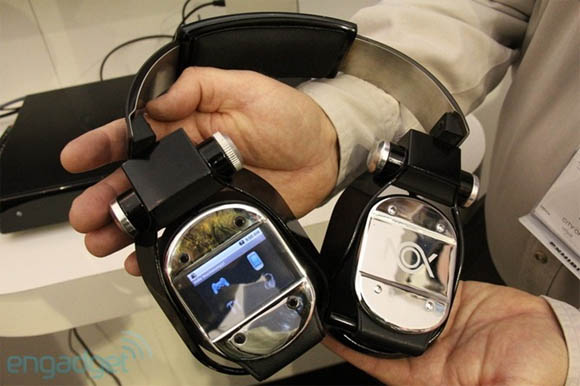 Not content with Android in your smartphone or tablet? Try the Admiral Touch (source: Engadget)
The Admiral Touch features a 2.4-inch touchscreen display that you can poke and stroke to use the Android OS to access the wireless headset's different modes, adjust volume, and switch tracks. The prototype shown at last week's Consumer Electronics Show was running Android 2.1, but who knows what version it'll be running when – if? – it ships in late 2011.
According to Nox Audio, the headphones' Wi-Fi capability will support not only standard audio sources, but also content streamed from Pandora Radio, and VoIP apps such as MSN chat and Skype. Into the chunky cans will be crammed noise-cancelling 7.1 surround sound, and the earpieces can be rotated outward to function as speakers.
With Wi-Fi, Bluetooth, USB, and standard 3.5mm audio-jack connectivity, Nox Audio promises that the set will "offer maximum versatility and compatibility with PlayStation 3, Xbox 360, PCs, personal music players such as the iPod, home theaters and cell phones and all other electronic devices."
Although the company suggests that the Admiral Touch's removeable and recharageable lithium-ion battery will provide over five hours of audio pleasure, it remains to be seen how long it can truly handle a 2.4-inch display that's powered by an ARM11 processor and supported by 1GB of flash storage, 256MB of RAM, and a microSD card slot.
If the Admiral Touch should catch on, we wouldn't be surprised if another headphone vendor who's seeking recognition will offer a set into which you could slip your 1.54-inch Apple iPod nano. ®