This article is more than 1 year old
Google Nexus S Android smartphone
Powered by Samsung
Review What do you want from a smartphone? Good looks? New, new features? Decent battery life? The latest operating system? If so, the Nexus S should be right up your alley. The latest Android handset comes direct from Google but where its predecessor, the Nexus One, was made by HTC, this one is created for Google by Samsung.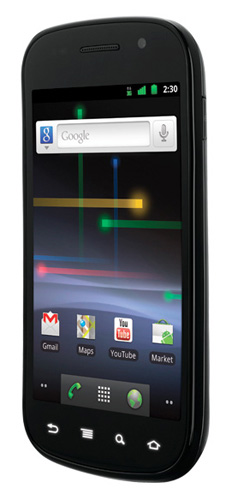 Home-baked Gingerbread: Google's Nexus S
It's slim, sleek and curvaceous, and like the best catwalk models, as light as a feather. The shiny-plastic casing may not be to everyone's taste, but it helps with the weight and lends a showbiz glamour. Every edge and corner is rounded and there's a hefty swelling at the base on the back – otherwise it's quite a slim handset.
The 4in display – bigger than the HTC Desire, iPhone and Nokia N8 – doesn't bulk the phone up too much, as nearly the entire front of the device is its display. This phone has an eye-searingly colourful AMOLED screen which is hard to take your eyes off. And the front of the phone is slightly curved, so it will hug the contours of your face that little bit more closely when you're on a call.
One last thing about that striking display is the way it switches off. Instead of simple blackness, it animates into a black background with a white line that folds in on itself like a traditional TV. A small thing, but deeply enjoyable. The front of the phone has no buttons, only four backlit icons for Back, Menu, Search and Home. They're subtle lines which vanish utterly when the screen is off.

Slim, for the most part
Anyway, you've switched the phone on, so you can get your first glance of Gingerbread, the latest edition of Android, version 2.3. Since this phone comes direct from Google, there's no additional skinning as there would be if this were an HTC or Sony Ericsson phone, say. But that doesn't mean it's bland – the latest interface has a quietly improved look that's demure rather than cartoony.