This article is more than 1 year old
Google Nexus S Android smartphone
Powered by Samsung
Touch and go
And there are navigation sophistications built into Gingerbread. Touch the base of the display and five thumbnail cards appear, showing you what's on which screen. Note there are only five homescreens – HTC's Sense overlay offers more. Never mind, five is plenty and the actual widgets (not the shortcuts) are smaller. For instance, unlike the Nexus S, HTC's dedicated Twitter client for HTC Sense takes up a whole screen.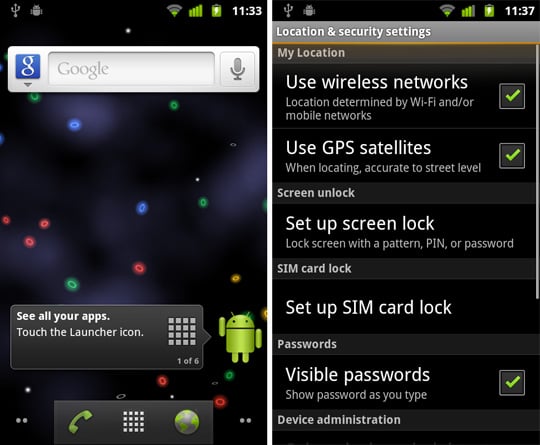 Home screen and set-up options
Explore further and the new Android keyboard is significantly improved, so texting and e-mailing will be easier. The predicted word ribbon that appears as you start tapping aims to improve with use, as Gingerbread spots what you most frequently say – not that you're predictable, of course. Copy and paste is also better, with clear and easily managed text markers.
Like the iPhone 4, the Nexus S includes a gyroscope which app developers can use to add an extra dimension to gaming. This will work well with the accelerometer and digital compass for motion-controlled games. Gingerbread also enables you turn your phone into a mini Wi-Fi hotspot, so up to six people can log on to the Internet through the phone's 3G connection.
And here comes the biggest innovation: NFC or Near Field Communication. This is the technology built into Oyster cards and other contactless devices, and can be used to turn your phone into a credit card to pay for low-price items, for instance. Well, one day, anyway, as there are no programs to take advantage of it yet. Will you still be using the Nexus S by the time this technology takes off, though? We'll see.