Android passes iPhone in mobile ad race
3,130 per cent climb in 2010
---
Android is firmly crushing Apple's iOS in the smartphone ad wars, according to a report released Thursday by mobile advertising firm Millennial Media.
The report, based on what Millennial Media identifies as "carrier, device and campaign data collected over billions of monthly ad requests," says that Android devices accounted for 46 per cent of mobile ad requesst in the fourth quarter of 2010 – the first time Google's open source OS had passed Apple's iOS devices on the Millennial network.
Devices based on iOS – including the iPad – accounted for 32 per cent of ad requests, while RIM pulled in 16 per cent.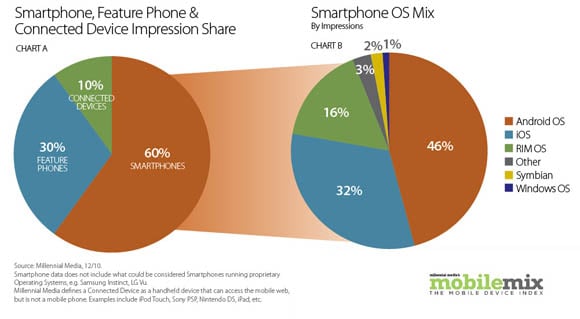 There's plenty of good money to be made in the Android ad arena (click to enlarge)
Android-based ad requests grew 141 per cent from the third to fourth quarter of 2010; during the same period, iOS ad requests grew just 12 per cent.
Android smartphones started slowly after the introduction of T-Mobile's G1 in September 2008, and began to take off only after Motorola and Verizon aggressively advertised the Droid in late 2009. At this time last year, however, Android smartphones began to make their move – and, according to Millennial Media, Android-based ad requests increased a staggering 3,130 per cent during 2010.
Apple's iOS devices increased 14 per cent during the same period.
The iPhone, however, remains the number-one ad platform, with 12.45 per cent of all of Millennial Media's mobile-device ad placements. Apple's iPod touch is number three, with 6.47 per cent, sandwiching RIM's BlackBerry Curve, which is number two at 6.55 per cent.
After those top three, the Android takeover begins, with the HTC Nexus One (Passion) at number four, Motorola Droid at number five, and so on. Among Millennial's top 30 mobile devices, 16 are Android-based – and nine are from HTC.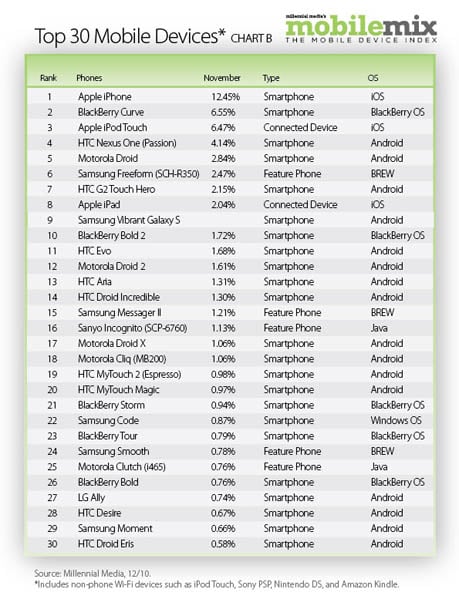 The Samsung Code – number 22 – is the only Windows Mobile device on the list (click to enlarge)
Keep in mind that these aren't pure market-share numbers – those could only be determined by counting how many of each type of smartphone are in US smartphoners' pockets, and not by either counting how many have left the factory or, in Millennial's case, by how many ads are being served to them.
But the report does indicate, and indicate clearly, that the Android juggernaut is real, and that Apple and its iOS devices are feeling the heat. ®