This article is more than 1 year old
Samsung EX1 compact camera
Robust, retro, low light performer
Review While Samsung's NX100 APS-C sensor camera is making life difficult for those deciding on compact EVIL shooter, the company's considerably cheaper EX1 is beginning to look like a bargain these days. Shop around and you can pick it up for under £300. The EX1 isn't an interchangeable lens model but its 24mm f1.8, 3x zoom is certainly a winner in low light, with Samsung making claims that it's the world's brightest lens on a compact.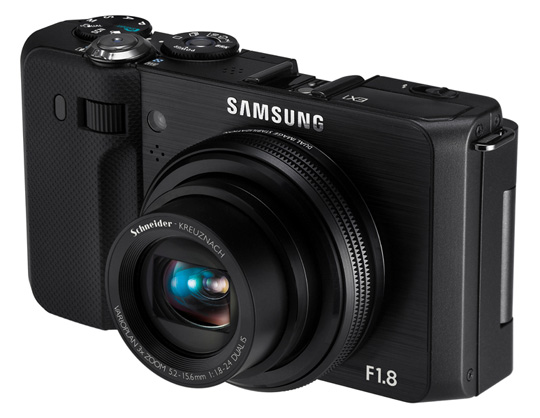 Optical drive: Samsung's EX1
That lens has the words Schneider-Kreuznach on it. I used to use SK lenses in my black and white enlarger, and jolly good they were too. The body of this beast has the f1.8 emblazoned on it and evidently, Samsung is pretty pleased with this fact. It is a very worthwhile selling point. A fast lens delivers pin sharp detail, perfect contrast and no cheap special effects like vignetting and colour shifts in the corners. Oh no, wait you can add that in as an in-camera special effects treatment – more on that later.
Well now that might be all good if there was any sort of a decent sensor behind it, and there lies the rub. At 1/1.7in, like Canon's G12, the EX1 lingers in smallville, when micro four thirds and larger sensors are fast becoming the norm in sophisticated compacts. Indeed, it belongs to an earlier generation of camera class and while 10Mp isn't bad, as other manufacturers have plateaued here too, I still wouldn't write it on the front like it was a selling point. I mean, it is written on the casing, not on a removable sticker, which also smacks of retro too.
Still, the Samsung EX1 is a proper heavy duty, sexy looking, well dressed capable 'compact' even though its weight and bulk are somewhat at odds with that description. It has a great 3in AMOLED screen that protects itself with articulation, and can sit way off to the left. When shooting, the information appears well laid out, and overall you get a bright image showing on the display, even in strong sunlight.
The Mode Dial gives you the usual PASM, also Smart, Video, Scene and its Dual image stabilisation function. I think having the Dual IS choice is a pretty good idea, for when you are out of options on all the other parameters and have to just trust the cameras technology to deliver. The other dial up top is for your Single Frame, continuous and timed exposure and for turning the camera on.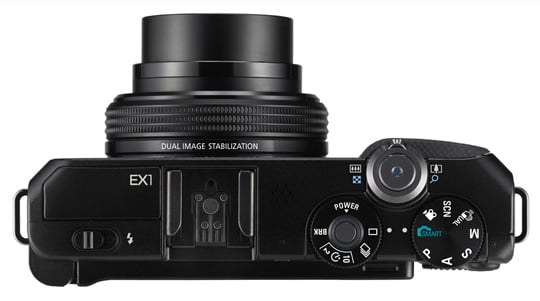 Modes aplenty, but manual tweaks deliver the best results
With the screen in closed position, the very cool blue light would be the only thing to give away that this camera wasn't from a very credible German past. It really does look the business. When people saw it they assumed it was a much more technical camera than it is. Maybe this is its main appeal? Nice legs, shame about the face.