Topflight boffins in America have well and truly gasted the world's flabber by building a sort of miniaturised live arena version of Pac-Man, in which players guide minuscule single-celled organisms to gobble up little balls.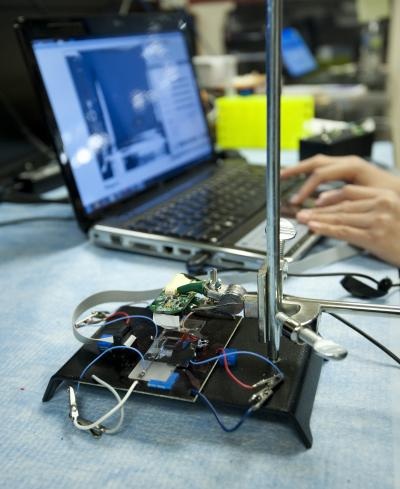 Definitely no tiny screams to be heard coming from this
The game, dubbed PAC-mecium (the organisms which chase around gobbling balls are paramecia) is the brainchild of Stanford uni bioengineering prof Ingmar Riedel-Kruse.
"We hope that by playing games involving biology of a scale too small to see with the naked eye, people will realize how amazing these processes are and they'll get curious and want to know more," he says.
Riedel-Kruse and his Stanford colleagues set up the tiny, living Pac-Man game by placing paramecia in a small fluid chamber, which is viewed through a microscope by a camera – which then relays images to the video game screen. The player controls the paramecium using a normal game controller which is hooked up to equipment that "controls the polarity of a mild electrical field applied across the fluid chamber, which influences the direction the paramecia move". Score is kept by a computer tracking the paramecia on the video.
The game-fancying boffins have also set up live versions of other games, dubbed "POND PONG", "Ciliaball" and "Biotic Pinball". In Biotic Pinball, the paramecia play the part of rolling balls and the paddles are supplied by squirting "occasional whiffs of a chemical into the fluid, causing the paramecia to swim in one direction or another".
Plainly a trifle worried lest he be accused of cruelty in creating living Pac-Men and pinballs, manipulated by means of electrocution or gassing merely to tickle the jaded sensibilities of slack-jawed vidgamers, Riedel-Kruse offers a pre-emptive defence. The prof claims that paramecia have no capacity to feel pain, though he does seem to concede that it would be quite possible to build similar games using creatures which could suffer.
"We are talking about microbiology with these games, very primitive life forms. We do not use any higher-level organisms," he argues. "Since multiple test players raised the question of exactly where one should draw this line, these games could be a good tool to stimulate discussions in schools on bioethical issues."
In any case, Riedel-Kruse says, his games are about more than mere enjoyment.
"We would argue that modern biotechnology will influence our life at an accelerating pace, most prominently in the personal biomedical choices that we will be faced with more and more often," Riedel-Kruse said. "Therefore everyone should have sufficient knowledge about the basics of biomedicine and biotechnology. Biotic games could promote that."
Apart from the paramecium-bothering cellular-scale games mentioned above, the prof and his colleagues have also developed amusements which work on the molecular level (PolymerRace, based on DNA-copying polymerase chain reactions) and at the level of multicellular colonies (featuring yeast colonies).
Those interested can read full details on the biotic-gaming research here courtesy of the journal Lab on a Chip (free login required). ®
Similar topics