MSI has spec'd up its upcoming Windows-based tablet, the WindPad 100W.
Think netbook minus keyboard and you have a pretty good idea of what to expect.
So, we're looking at 2GB of DDR 2 memory, a 32GB SSD, a 10.1in, 1024 x 600 screen, 2.4GHz 802.11n Wi-Fi, one USB port, one SD card slot and one mini HDMI port.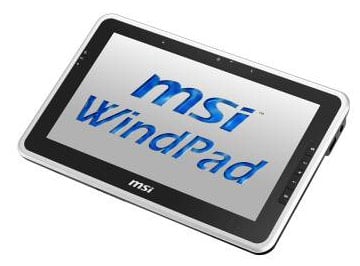 MSI simply said the 100W will incorporate an "Intel mobile processor", so whether Core 2, Core i or Atom remains to be seem. MSI's unwillingness to say suggests it's the unlaunched 'Oak Trail' Atom.
But the 100W does run Windows 7 Home Premium, not an OS you'd expect to see on a 1024 x 600 netbook, and here shelled with MSI's own Wind Touch UI.
The tablet measures 274 x 173 x 19mm and weighs 800g. Its battery is good for "over six hours" runtime, MSI claimed.
There's no word yet on availability or pricing. ®