Nokia has confirmed that it's terminating the music service formerly known as Comes With Music in most of the territories in which it operates, including the UK, by the end of the year. Subscriptions will continue in six remaining nations Brazil, China and India. This contradicts an earlier wire service report that suggests the bundle would be axed in all 27 countries.
Announced in December 2007, it was the Big Idea of Nokia propellerhead Tero Ojanpera, the engineer promoted to run services for Nokia and bring in new "strategic alliances and partnerships". Ten months later, when it launched in the UK, CWM received a 21-gun marketing budget and distribution from Carphone Warehouse. But six months later it had attracted just 23,000 users here, and six months after that, just 32,000.
The idea was to increase customer retention rates for Nokia phones by bundling a year's access to unlimited music downloads with the device – which the user could then keep after the year was up – or transfer to a new CWM device.
Field reports suggested neither sales staff nor prospective punters could understand the deal. Nokia vowed to press on, explaining that it wanted to convert CWM subscribers to paid punters. The service notched up some success in Brazil – where Apple's iTunes store doesn't operate. CWM was renamed "Ovi Music Unlimited" last August.
In a statement, Nokia told us:
"We will continue to offer 12-month Ovi Music Unlimited in China, India and Indonesia, while offering six-month subscriptions in Brazil, Turkey and South Africa. For other markets, we plan to cease producing Ovi Music Unlimited-edition devices at the end of the year. Naturally, there will be no disruption to the service for our existing customers in these markets or anyone who in the future purchases an Ovi Music Unlimited-edition device from stores while stocks last – they can continue to enjoy unlimited downloads for the duration of their original Ovi Music Unlimited subscription and keep those tracks forever.
"Ovi Music – our DRM-free, a-la-carte music store – is not affected in any way and music fans can continue to purchase music in 38 markets.  "
Why did it fail?
Comes With Music was a genuinely original idea. In a now-forgotten deal in 2006, Microsoft had offered a $1-per-device royalty for Universal Music – but that was just a bit of a sweetener for the music industry, and there was no music program attached. No other consumer electronics company has attempted to follow Nokia's example. With Nokia's global reach and deep pockets (considerable sums were paid out in advance to major labels, insiders say) it should have made a dent in the market. But it didn't.
Why not?
Arguments will continue whether this was a good idea that was poorly implemented by Nokia, or a bad idea that was too complicated and offered too little value to the punter. It suffered from two handicaps. CWM/OMU was never offered as a separate SKU – and it was only available with a small number of handsets - three to begin with. So you could never walk into a Carphone store, choose your phone from a wide range of Nokia devices, then choose to add the music subscription.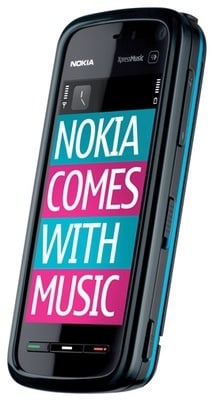 It proved complicated to explain, and fiddly to set up - you couldn't activate it in the store, for example. And the DRM can't have helped - although it launched as a DRM-free service in China last spring, which will continue.
What's not in doubt that the music market shifted decisively during this period to DRM-free downloads – which Nokia also provides via its Music Store – and on-demand streaming via licensed services such as Spotify, or just plain old YouTube.
Others aren't giving up, however. Cricket Wireless, a mobile virtual network operator in the US, is to launch a plan offering unlimited calls, unlimited texts and unlimited tethered music downloads, just like CWM/OMU. The $55-a-month service is called Muve Music.
So, Comes With Music makes its exit from Western markets as perhaps the biggest most expensive digital music flop of all. Nokia spent a similar fortune on attempting to crack the mobile gaming market with N-Gage in the Noughties – also to little effect. ®
Similar topics