Symantec launches scale-out NAS using Chinese hardware
The art of fighting without fighting
---
Symantec is taking on NetApp and EMC with a scale-out NAS (network-attached storage) cluster using Chinese hardware.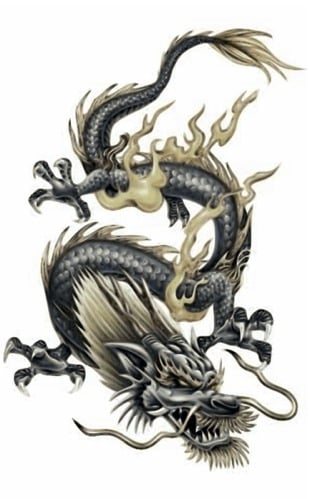 The FileStore N8300 is a 2 - 6 node active:active cluster offering CIFS and NFS access and up to 1.4PB of disk space. The product uses the clustered file system from Symantec's Veritas Storage Foundation product, and integrates with Symantec Enterprise Vault, NetBackup and AntiVirus security. The aim is to provide a storage resource to hold, secure and protect unstructured data.
Symantec says that the FileStore N8300 is the only Enterprise Vault (EV) NAS target to enable Partition Secure Notification. This enables EV to delete file copies from primary storage upon notification that the archived data has been successfully backed up.
The product is built from front-end NAS processor nodes (NAS heads) and a back-end Fibre Channel SAN. This supports 146GB, 300GB and 450GB Fibre Channel (FC) drives; the same capacity SAS drives; and 750GB, 1TB and 2TB SATA drives – but no solid state dive (SSD) storage – with RAID levels 0, 1, 5, 6 and 10. There is a SmartTier facility to move data dynamically between the disk tiers based on access activity levels, synch replication between FileStore clusters, and included NetBackup and snapshotting.
Symantec says it is one of the top performing NAS systems based on the SPECsfs benchmark. Client access is via 1gigE and 10gigE. There is no mention of block data access in Symantec's announcement.
However, the data sheet for the product states, under a NAS source management heading: "Dynamic expansion of file system, file system support for IP SAN/FC SAN."
Although the FileSTore N8300 is said to scale up both its storage processing – add cluster nodes – and storage independently and non-disruptively, calling this rack-mounted clustered product an appliance may be stretching the definition. It is hardly a storage toaster.
Chinese hardware
Our understanding is that the FileStore N8300 is based on Huawei's OceanSpace N8300 block and NAS access product – but with a different backend storage array and no block access protocols up front.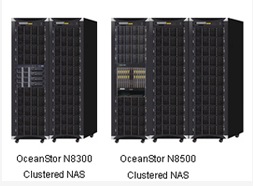 Huawei OceanStore N8300 and N8500 clustered NAS.
Huawei's N8300 is a unified storage product as it also offers both Fibre Channel and iSCSI block access alongside the NAS protocols. It has up to 7.68PB of capacity, whereas Symantec's N8300 has only 1.4PB. It has the NetBackup software included as well, plus dynamic tiering. Huawei offers fewer disk drive capacity choices but the same FC, SAS and SATA drive types with no SSD option.
It also offers the high-end N8500 with from four to 16 nodes and vastly more capacity: 15.36PB. The way is open for Symantec to offer this product as well, and easily move into SAN storage as well by adding front-end Fibre Channel and iSCSI interfaces. We'd offer the trite suggestion that Symantec is learning to walk the embedded software appliance and scale-out NAS storage array before attempting to run with SAN storage.
The FileStore N8300 is available now in the United States, UK, Italy and the UAE, and will be rolled out in phases to other regions.
Symantec is also expanding its PureDisk deduplicating NetBackup 5000 appliance line with a 5200 product, increasing backup capacity from 16TB per node to 32TB. It can be used for both source and target deduplication, and Symantec reckons it offers a shorter time for getting deduplicated backups onto disk than competing products.
We might describe Symantec as Huawei's "Trojan horse", so why is it getting into the hardware business at all?
One factor could be that its main systems OEMs – companies such as EMC, HP and IBM – are getting into the data protection and (EMC) security business and encroaching on Symantec's turf. Another factor could be cloud computing – with Symantec thinking the best way to preserve and grow its software portfolio is is to provide a hardware base, so service providers can back-end their servers with Symantec software-running appliances and rackmount systems. There is also the converged IT stack idea of offering an all-in-one box which customers find easier to buy than separate best-of-breed components.
The underlying message is that Symantec is gearing up its software offering with Chinese-sourced hardware underpinnings... Enter the dragon. ®