Circumstantial evidence that the iPad 2 will sport not only its customary array of portage but also an SD card slot and a HD TV connector come from pics of a plastic case that have popped up online.
The snaps, posted by website MIC Gadget, show a small space on the top of the case and another on the left-hand side. You can see the hole for the anticipated rear-facing camera on the right, next to the space for the tablet's volume controls.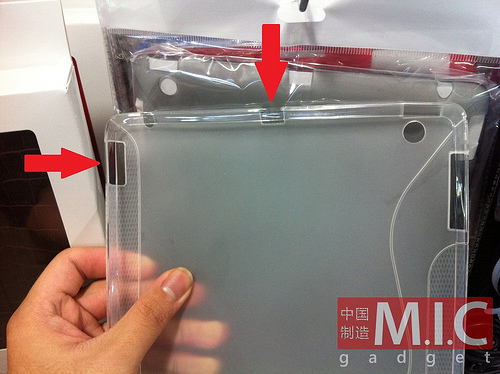 With a large gap at the base of the case now expected to open onto the iPad 2 new, big speaker, speculation on the two new gaps has seen the revival of a claim the tablet will now sport a memory card slot.
That would be handy, now that iOS 4 has killed Apple's SD card reader accessory.
And the port on the top? A mini DisplayPort connector some have suggested, though since that would limit the iPad to monitor connections, we'd suggest a mini HDMI port is more likely. Few, if any, TVs have DisplayPort support.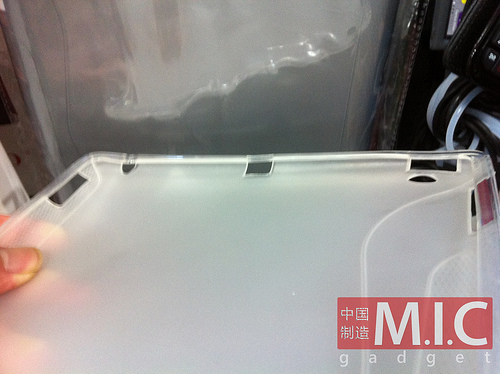 Apple is not HDMI-averse: both the Apple TV and Mac Mini have HDMI ports.
HDMI would be a nice checklist-tick feature, but goes against Apple's apparent notion that iDevice owners should be streaming content to tellies through its Apple TV box. Would Apple allow users to connect iPad to TV directly instead?
Of course, it's worth remembering that a fair few iPad cases have unusual gaps and holes, put in to cater for rumoured ports or connectors that Apple dropped before finalising the tablet's design. There's no reason to assume that some of these are not likewise wishful thinking on the case maker's part. ®
Similar topics