This article is more than 1 year old
Razer StarCraft II peripherals set
You sure got a purty mouse
Review Well aware of the enduring appeal of the StarCraft for its myriad of fans, Razer has brought out a bunch of peripherals tailored to match the game's latest incarnation, StarCraft II: Wings of Liberty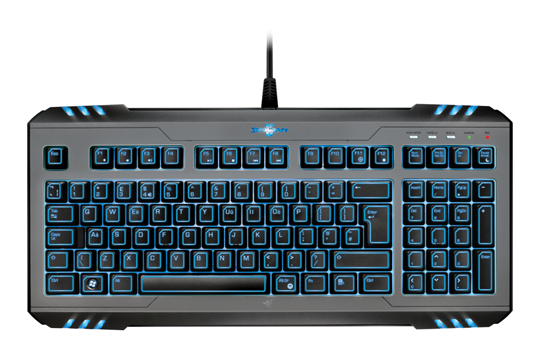 Light fantastic: Razer's Marauder keyboard
The Razer Marauder keyboard, Spectre gaming mouse and Banshee headset are all about the purty purty, even more so when the APM (Actions-Per-Minute) reactive lighting system kicks in. But what? You want two USB ports to run all those purty lights?
Starting with the brightest first, at around 15in in length, the Razer Marauder StarCraft II gaming keyboard is nicely compact. The Marauder's sexy elevated rubber keys give a good clean response. Backlit and laser-etched, this keyboard oozes quality. There are three different sets of coloured LEDs and you can personalise them or just watch them respond to various in game situations while kicking some Zerg ass in Starcraft II.
It doesn't actually matter whether your playing Terran, Protoss, or Zerg – you can set the keyboard's backlight to flash red when your base is in trouble, green when a unit is ready or yellow when your friends are getting wiped and need your aid.
Being able to record your macros on the fly and not having to go into the Marauder's control panel using Alt Tab saves a lot of faffing too.  Just use Alt+Fn, type your keystrokes, then Alt+Fn again, and select the key to which you want to use for the macro. Still, no dedicated gaming keys on a keyboard this expensive is a crime.
Precision pointer
It took me a while to get used to the Spectre mouse but, when I did, boy did it make a difference. With a 600dpi Razer Precision 3.5G laser sensor on board, it gives you a crazy 1ms response time. Super compact, this mouse looks a bit weird and wedgy but actually handles well. It utilises the usual array of two main buttons, two side buttons, a scroll wheel and wheel button, yet there is nothing overly impressive here for the amount of money Razer is asking.