This article is more than 1 year old
LG Optimus 7 smartphone
WinPho 7 handset with a DLNA difference
Review One of the problems with the recent raft of Windows Phone 7 handsets has been trying to tell them apart. Microsoft has kept such a tight rein on the specification for each handset running its reborn operating system that there isn't really a great deal of room for manufacturers to manœuvre. They've all got a minimum of 8GB of onboard storage, a 1GHz processor, a large touchscreen and at least a 5Mp camera. Still, LG has had a go a diversifying by including it DLNA networking capability in its Optimus 7 E900 handset.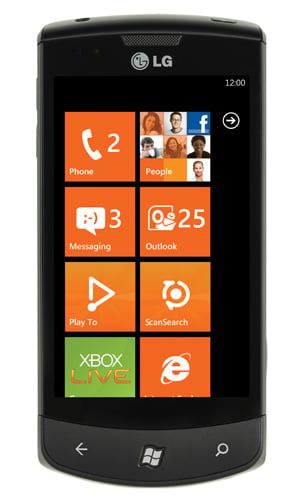 Trying to be different: LG's Optimus 7
Measuring up at a fairly chunky 125 x 60 x 12mm, the LG Optimus 7 weighs 157g. The weight is due at least in part to the metallic casing, which gives it a bit of a premium feel. Unfortunately, the same can't be said for the raised Windows button on the front which feels a little loose and cheap in contrast to the rest of the casing.
Around the sides are a volume rocker and camera button, with a micro USB power/sync slot covered by a plastic grommet. On top is a 3.5mm headphone jack and a teensy power/lock button. On the back is the camera lens, flash and self-portrait mirror encased in a neat little roundel on the aluminium back plate.
The 3.8in LCD screen includes multi-touch capability and is fast and responsive in use. It's a goodly size – though it doesn't cover as much ground as the HTC HD7's 4.3in – and while it offers 800x480 resolution, it doesn't quite match the AMOLED display on Samsung's Omnia 7 for contrast and sharpness.
WinPho 7 is proving to be an interesting compromise between the flexibility of Google's Android and the restricted ease of use of Apple's iOS. Out of the box, the tile-based system is straightforward to get to grips with and while you can rearrange the tiles to suit yourself, there are no power-hungry widgets to drain your battery.