This article is more than 1 year old
Boeing customers spy distant Dreamliner
Q3 delivery expected after seventh delay
Boeing has announced that the first delivery of its long-awaited 787 Dreamliner will finally take place in "in the third quarter of this year".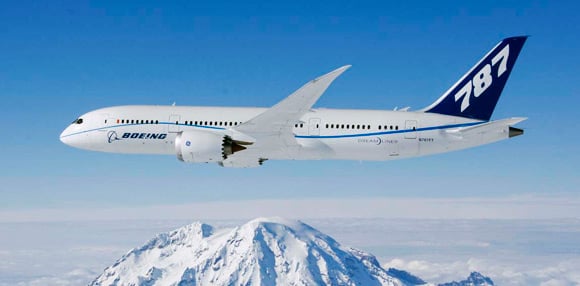 The seventh delay in getting the aircraft to Japan's All Nippon Airways was provoked by a fire last year aboard one of the flight test aircraft.
All Dreamliners were subsequently grounded for six weeks, and Boeing now says the latest knock-back "reflects the impact of an in-flight incident during testing last November and includes the time required to produce, install and test updated software and new electrical power distribution panels in the flight test and production airplanes".
Boeing vice president and general manager of the 787 program, Scott Fancher, explained: "This revised timeline for first delivery accommodates the work we believe remains to be done to complete testing and certification of the 787.
"We've also restored some margin in the schedule to allow for any additional time that may be needed to complete certification activities."
The company elaborates:
The 787 program has been gradually returning individual airplanes to the flight test program. After receiving interim software and hardware improvements, four flight test airplanes have been subjected to extensive ground testing and a thorough review to ensure their readiness to return to flight. The remaining two airplanes will be returning to flight in the days ahead to bring the full flight test fleet back up to flight status.
Reuters notes that the industry has "breathed a sigh of relief" that this latest delay wasn't longer.
Aerospace analyst Robert Stallard, of RBC Capital Markets, told the news agency: "We think investors widely expected a delay of this magnitude, and given the recovery in the stock price, have become comfortable that the 787 problems are not a show stopper, and will not have a meaningful impact on the positive trajectory of this aerospace upcycle."
All Nippon Airways expected to get its hands on the first 787 back in May 2008, and the airline's president, Shinichiro Ito, last week admitted it's having a "hard time" coping with the repeatedly rescheduled delivery date. ®