Review Here's a home photo-print 'toaster' with a difference: it can't be plugged into a computer, nor does it support Wi-Fi. Instead, it comes with a built-in dock for an Apple iPhone. As such, the Bolle BP-10 is promoted as the world's first dedicated iPhone printer. In other words, it won't print from anything else.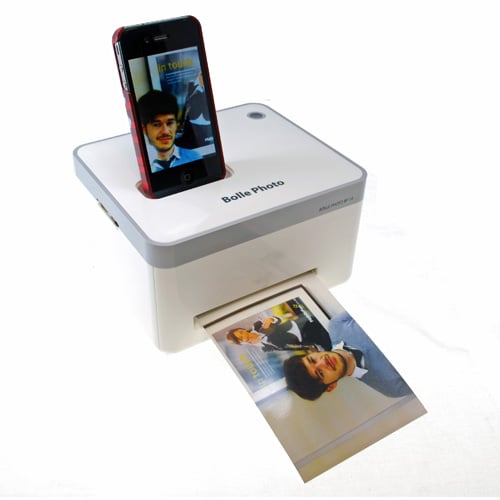 Bolle BP-10: whenever your iPhone is sitting in the dock, it is being recharged.
The printer is small, shiny and white, and notably lacking in paper trays, flaps and other fragile bits that manufacturers usually invent for users to snap off by accident. The only external features are the dock and power button on top, an output slot at the front, and the power cable exiting the rear.
To print from an iPhone to the BP-10, you first need to download and instal the free Bolle Photo app from the iTunes App Store.
This little program lets you choose a picture from your iPhone's Camera Roll or other image libraries in Apple's Photo app, then choose whether you want to output it as a full-size 4x6in print or a selection of miniatures on a single print: a multiple of four or a crammed arrangement of two small and eight tiny versions.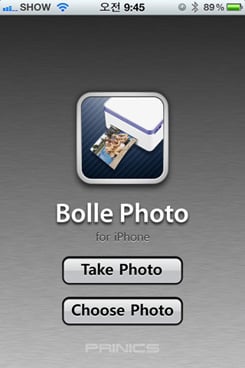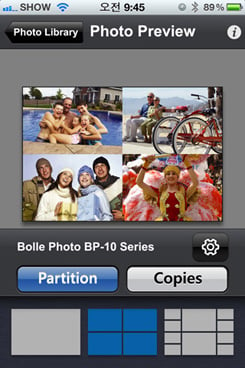 Choose an image using the Bolle Photo app, slot your iPhone into the dock and start printing
This done, you set it to print, pop the iPhone into the BP-10's dock and let it do the business. Each glossy, borderless, 6x4in printout takes a minute to complete.