This article is more than 1 year old
Nokia C7 smartphone
Smooth-talking Symbian?
Review Nokia's smart phone offering has been not so much off the boil as distinctly lukewarm for the last few years with a series of capable handsets that offer some decent specs, but fall behind the competition for usability and, well, fun. Unfortunately, that looks unlikely to change with the Nokia C7. While it includes brick outhouse build quality and exemplary battery life along with an 8Mp camera among its broad range of features, it remains hamstrung by its clunky operating system.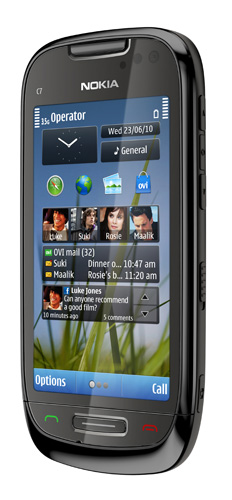 Symbian smartie: Nokia's C7
At first sight, Nokia's C7 is a respectable looking smart phone, with its shiny glass front and matt black plastic and stainless steel casing. It measures 117 x 57 x 11mm and 130g. While bigger, it's more or less the same weight as its cousin, the C6-01, released around the same time. Above the 3.5in screen are light sensor and VGA camera for calls, with backlit call start and stop buttons below surrounding an extruded menu button.
On the sides are volume and voice command buttons, camera shutter and screen lock switch and Nokia power port, with power button, 3.5mm headphone jack and micro USB sync port covered by a plastic grommet, all crammed onto the top. On the back are twin loudspeakers, camera lens and dual LED flash. You'll need to remove the back to get to the Sim card, and also the battery to get to the microSD card.
The capacitive multi-touch screen is big and bright and generally lovely, though perhaps not consistently the most sensitive I've tried – there were occasional sticky moments which required two or three presses to access functions.
The C7 runs on Symbian 3, the latest version of Nokia's operating system and first seen on the recent Nokia N8. It would be okay – if there'd never been such a thing as the iPhone, or Android, or most other modern smartphone platforms come to that.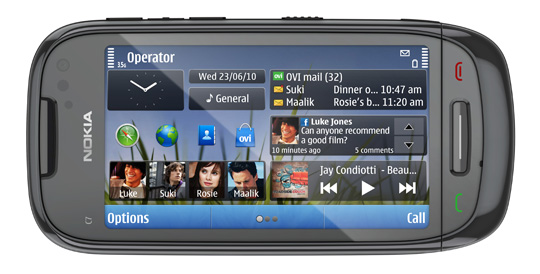 Comes with Nokia maps for off-line navigation
It's true that its grid system, spread across three home pages, allows you to customise your phone's screen with widgets and shortcuts – including Quickoffice and Nokia's free sat nav app – to do most of the things you can with other phones, the trouble is that it just doesn't them as well.