Astronaut Tim Kopra will miss the forthcoming launch of Discovery on its STS-133 mission to the International Space Station, after falling off his bike over the weekend.
There are reports that Kopra broke his hip in the mishap near his Houston home, but NASA remains tight-lipped. It said: "Tim is doing fine and expects a full recovery, however, he will not be able to support the launch window next month."
The unfortunate mission specialist will be replaced by Steve Bowen, who was last aloft on Atlantis's STS-132.
Chief astronaut Peggy Whitson told the press yesterday: "As anybody would be this close to flight, Tim's disappointed. His crew made very tight bonds and so they are all very supportive of Tim. I think Steve will fit in well with this crew. He obviously doesn't have time to make a huge impact, he's going to just try to fill Tim's shoes."
Filling Tim's shoes will involve two spacewalks. Bowen has five EVAs under his belt: three on Endeavour's STS-126 mission in 2008, and two during STS-132 in 2010.
NASA said that if STS-133 is knocked back significantly, Kopra could be reinstated to the crew manifest. However, with just two shuttle launches remaining, it appears he's missed his last chance to ride the vintage space vehicle.
Discovery is slated to blast off on 24 February, carrying essential ISS spares and the converted multi-purpose logistics module Leonardo, which will become permanent extra storage at the orbiting outpost.
Steven Lindsey will command, with Eric Boe in the pilot's seat. The mission specialists are Bowen, along with Michael Barratt, Alvin Drew, and Nicole Stott.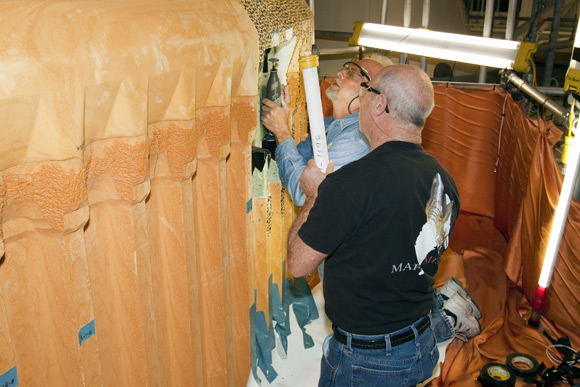 NASA engineers are currently carrying out repairs to the shuttle's Discovery's external fuel tank ahead of the planned launch (see pic). The agency explains: "Technicians will modify 32 support beams, called stringers, on the tank's intertank region by fitting pieces of metal, called radius blocks, over the stringers' edges where they attach to the thrust panel area."
You can find the latest on STS-133 here. ®