NASA's venerable Stardust spacecraft will on Valentine's Day burn its remaining fuel to approch and photograph comet Tempel 1, marking the end of a 12-year, 3.7 billion-mile odyssey.
At 16:37 GMT, Stardust will pass within 124 miles of the comet, grabbing 72 "high-resolution images during the encounter", while attempting to "measure the composition, distribution, and flux of dust emitted into the coma, or material surrounding the comet's nucleus".
NASA hopes that the craft, now dubbed Stardust-NExT ("New Exploration of Tempel"), may get a picture of the crater caused by the Deep Impact mission impactor which in 2005 slammed into Tempel 1.
Joe Veverka, Stardust-NExT principal investigator, said: "Every day we are getting closer and closer and more and more excited about answering some fundamental questions about comets.
"Going back for another look at Tempel 1 will provide new insights on how comets work and how they were put together four-and-a-half billion years ago."
Veverka has also hinted that Stardust could carry out some vital preliminary reconaissance work for future Bruce Willises. An examination of the Deep Impact crater "will tell us the mechanical properties of the subsurface of the comet," he suggested, adding: "In other words, how does the comet respond to impacts? And that's one of the fundamental things that you'd need to know if you were trying to blow up a comet or push it out of the way."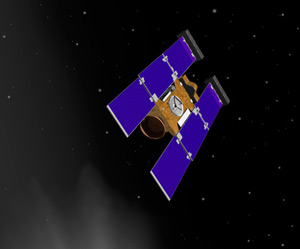 Launched in February 1999, Stardust's primary mission was to "collect dust and carbon-based samples during its closest encounter with Comet Wild 2" in January 2004.
These samples, plus interstellar dust, returned to Earth in January 2006 aboard a capsule which parachuted to earth in Utah.
Following this success, NASA placed Stardust on a course which could "potentially reuse the flight system if a target of opportunity presented itself".
In 2007, the renamed Stardust-NExT began a four-year pursuit of Tempel 1.
Tim Larson, Stardust-NExT project manager at NASA's Jet Propulsion Laboratory, said: "You could say our spacecraft is a seasoned veteran of cometary campaigns.
"It's been half-way to Jupiter, executed picture-perfect flybys of an asteroid* and a comet, collected cometary material for return to Earth, then headed back out into the void again, where we asked it to go head-to-head with a second comet nucleus."
As of yesterday, the spacecraft was roughly 15.3 million miles from its romantic encounter. When it does catch up with Tempel 1, it'll be 209 million miles from Earth, and "almost on the exact opposite side of the solar system".
NASA says Stardust-NExT is just about out of fuel, and will exhaust what's left during the flyby and "planned post-encounter imaging". The first beamed images of Tempel 1 should arrive at Earth on the morning of 15 February, the agency notes. ®
Bootnote
* Asteroid Annefrank, which Stardust skimmed past in 2002 as a rehearsal for its meeting with Wild 2.
Similar topics