NASA still dreaming of last Atlantis launch
Pencils STS-135 mission for 28 June
---
NASA is still hopeful it can extend the space shuttle programme to one last launch, and has "baselined" Atlantis's STS-135 mission for a 28 June lift-off.
The agency explains:
In late December, the agency's Space Operations Mission Directorate requested the shuttle and International Space Station programs take the necessary steps to maintain the capability to fly Atlantis on the STS-135 mission.

The Authorization Act of 2010 directs NASA to conduct the mission, and baselining the flight enables the program to begin preparations for the mission with a target launch date of June 28. The mission would be the 135th and final space shuttle flight.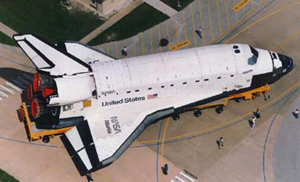 If it gets a go for its final, final flight, Atlantis will carry "the Raffaello multipurpose logistics module to deliver supplies, logistics and spare parts to the International Space Station".
If not, then its career ended on 26 May last year when it touched down at Kennedy Space Center, having wrapped a successful STS-132 mission to the ISS.
Atantis's first launch was on 3 October 1985, when it carried aloft a classified Department of Defense payload.
As it stands, the last shuttle mission will be Endeavour's STS-134, slated to go on 18 April. Discovery's STS-133 has a green light to depart for the ISS on 24 February. ®