Team Lotus started out with four people in late 2009, and has grown to 200 people and two Formula One cars today. It only got a guaranteed place on the starting grid in December 2009 - and then had to create a team, a car and an infrastructure in four months.
Sorting out a normal office network and backup systems in that time would be difficult enough, never mind the kind of data centres and high-performance computers needed by an F1 team.
The Reg, and assorted other publications, got the chance to visit the factory, in deepest, darkest Norfolk, thanks to the Lotus tech provider Dell. The direct giant sorted out all the usual office infrastructure along with a high-performance cluster for design work and a datacentre for the massive number crunching required during actual races.
The factory was previously used by Bentley to build its its Le Mans cars - hence the giant autoclaves.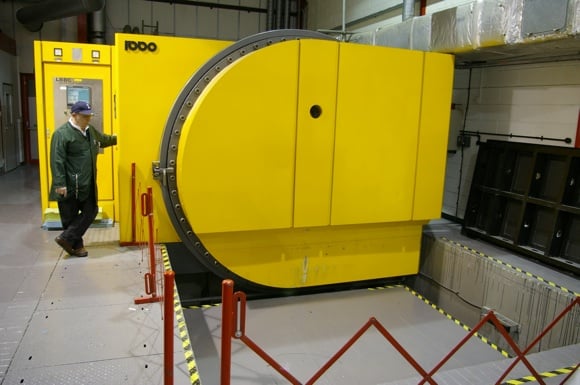 World's largest pizza oven, closed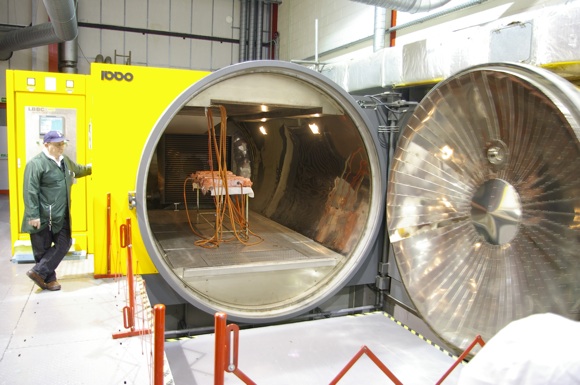 Pizza oven, open - really an autoclave for baking carbon-fibre parts
Dell also sorted out Team Lotus engineers with a full trackside set-up - some data from the racing cars is dealt with at the race course, some is sent back to the Norfolk factory operations room to be analysed there.
Throughout racing and testing, dozens of sensors on each car send information on everything from tyre pressure and temperature to fuel loads back to the engineers. These figures are crunched and entered into strategy software to help the team decide on what changes to make to the cars' set-up.
Team Lotus is looking at building a wind tunnel at the Norfolk plant, but in the meantime they're using a tunnel in Italy. Half-sized, aluminium models of the cars are used for that testing and one of the four senior aerodynamics staff is in Italy at any one time.
Alongside the wind tunnel Team Lotus are also using CFD - computational fluid dynamics - to test the aerodynamics of potential designs. Lotus uses both types of testing - some other teams, notably Virgin, have chosen to only use CFD as a cost-saving measure.