Duke Nukem Forever release date revealed
Let's rock!
---
The forthcoming Duke Nukem first-person shoot-'em-up may have been taking Forever to arrive - such is the irony of its title - but at long last, the game's publisher, 2k, has confirmed the release date.
According to a report on Game Informer, the long-awaited title will be released in the US on 3 May. The rest of us will get it three days later.
Duke Nukem Forever, the Chinese Democracy of the video-game world, had been much cause for debate until it was finally pushed back into the limelight last year with confirmation of a 2011 release.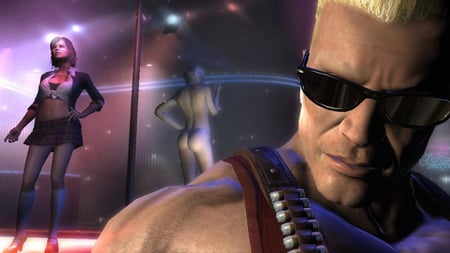 The game was subsequently demoed at the FirstLook games convention in Amsterdam last October.
Randy Pitchford, head of developer Gearbox, told games site CVG, the campaign will be "three times the size of Modern Warfare 2's".
Finally we have a date and can look forward to some overdue action-packed misogyny this spring. And we won't have to wait for Christmas. Bitchin'. ®
Similar topics
Narrower topics