This article is more than 1 year old
Philips 21:9 Cinema 58in LED backlit TV
The film buffs' telly goes 3D
Review How much do you like your movies? Enough to spend £4,000 on a telly? If so, you'll find the new 21:9 ratio TV from Philips to be very good value. Not only does it give you the best way to watch widescreen movies in close to native proportions, it has some of the best image quality yet seen. Plus Ambilight, oh and outstanding 3D fidelity too.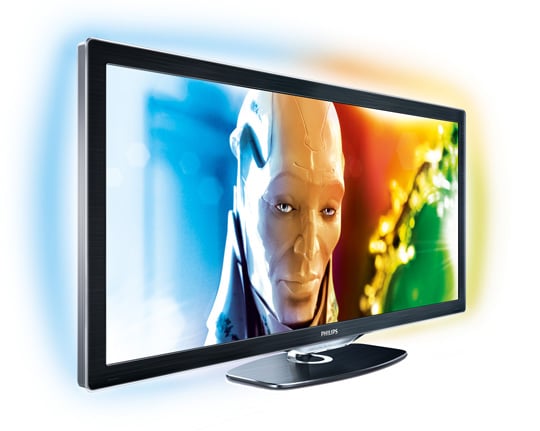 Philips' 21:9 Cinema TV takes the long view:
Let's get the negatives out of the way first – actually, that won't take long. It looks weird, frankly, at first. You need to get used to the gargantuan super-wide proportions. Secondly, its greatest strength – near-perfect movie playback – is also a weakness. You won't always be watching movies and the news looks peculiar when stretched or zoomed to fill the display.
And although this TV truly has cinema screen proportions, lots of DVDs and Blu-rays are formatted to 16:9 ratio, or thereabouts, so the TV has to adjust the onscreen image to fill the TV (which it does very well, by the way).
There's also the matter of set-up which is notoriously finicky with Philips TVs. Such is the power of the image processing it can easily make content look over-sharp, so filmic subtleties can be lost. Trial and error will set you straight.
Finally, I'd have liked to have seen a Freeview HD tuner in a machine this price, but if you're this keen on movies you probably have Sky+ HD Or Virgin Media with their many HD film options.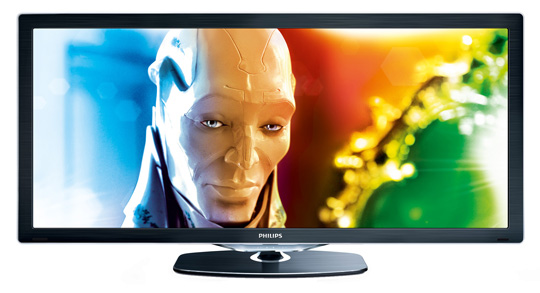 Alas, no Freeview HD tuner on-board
Right, let's see what's good. The curved-edge frame with brushed-metal bezel looks pretty classy and the stand is understated but attractive. For its size, the Philips 58PFL9955H isn't as heavy as you might imagine, though you won't want to move it around. It utilises the Philips visual menu system, all controlled through the Home button on the remote. Press it and you'll see a grid of icons including your inputs (PVR, Games console and so on) plus Setup.