This article is more than 1 year old
Philips 21:9 Cinema 58in LED backlit TV
The film buffs' telly goes 3D
Panel games
Watching 2D movies in high definition is a great experience with this TV. The Philips image processing technology is highly impressive, delivering spectacular detail and rich, natural colours. Unlike last year's 21:9 debut TV, this one has locally dimmable LED backlighting, which aids the high contrast levels and delivers deep black colours without lessening the screen's brightness. And the acreage of the 21:9 screen means there are significantly more of those individually dimmable LED clusters than on a conventional screen. When it comes to local dimming, Philips and Samsung know, perhaps better than anyone, how to make it look great.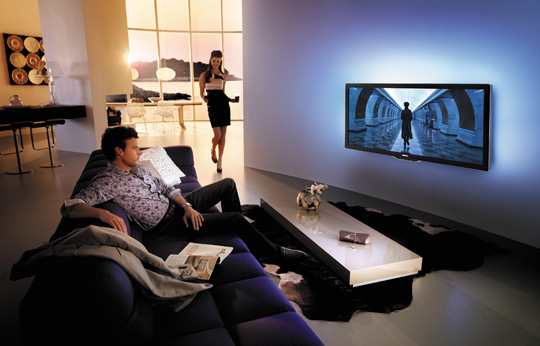 Usherette optional... and cheaper
Standard definition content is pretty good, too, though this tends not to be widescreen at all and you'll want to zoom in a little to be rid of the suddenly-huge black panels at the sides of the image. Still, the Philips image management engine makes it look as good as it could. As for 3D, it looks just dandy, too. Philips' PTA03 active glasses are used and this TV is a 400Hz screen, so the fast refresh rate reduces smeariness. While it's true that crosstalk – the unsatisfactory ghosting effect common to 3D LCD screens – isn't completely gone, it is very low.
To my eyes, this is the best 3D quality on the market: the absence of artefacts or jerkiness makes for a smooth, realistic feel to the jumping-out-of-the-TV effect. There's a great sense of depth of field and the blurry, nausea-inducing feeling found on some 3D sets is absent here. Sound, as often is the case with Philips, is a cut above the dullness of many flatscreen panels, though if you're keen enough on film to choose the 21:9, you probably have a home cinema system too. And usherettes, maybe.
Verdict
My, but this TV isn't cheap. Except, when you factor in all the features, the remarkable aspect ratio and the stand-out picture quality, it sort of is. The picture works well whatever you throw at it but the LED dimming makes widescreen content look really exceptional, aided by the trusty Philips Ambilight effect. The 3D image quality is also stand-out and makes for a highly enjoyable cinema-in-the-living-room experience.
More HD TV Reviews...

Group Test
Freeview HD TVs
Sharp Aquos
LC-32LE210E
Philips
46PFL9705H
Ambilight
LG
50PK990

Philips 21:9 Cinema 58in LED backlit TV
Wide aspect TV designed to match cinematic viewing.