Makes AdSense
While Schmidt was CEO, the company also introduced AdSense, which brought the AdWords model to third-party websites. And though AdSense doesn't bring in nearly as much cash as Google's search ads, it accounts for the second hefty slice of the company's quarterly revenue. In the fourth quarter of 2010, Google-owned sites generated 67 per cent of sales, while partner sites pulled in 30 per cent through AdSense.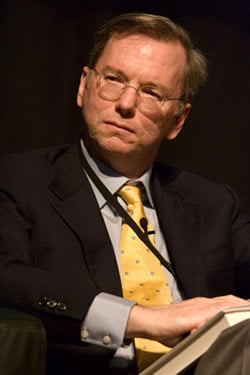 Eric Schmidt
Schmidt may have laid the groundwork for other big revenue sources. But maybe not. Android – meant to fuel the company's mobile ad ambitions –  is now more popular than the Apple iPhone, and in the fall Google said it was on pace to collect a $1bn a year in mobile ad revenue. But that's still a fraction of the company's overall sales – $29.32bn in 2010 – and for what it's worth, we know that Android wasn't Schmidt's baby – at least not when Page and Brin purchased the project without his approval.
In the fall, Google also said it was on pace to collect $2.5bn a year in revenue from display ads, so that's at least showing some serious growth. And the company says YouTube revenue doubled in 2010. But it won't say what it doubled from. YouTube boosts the company's bottom line in other ways, but it's not yet the advertisers' dream Google has long said it would be.
It's hard, however, to criticize Schmidt for the financial performance of services such as YouTube when the company is pulling in $29.32 billion a year. In 2010, Google's net income hit $8.51 billion. Where Schmidt deserves criticism is in the way the company approached so-called social networking and, well, PR. According to Ken Auletta's sources, Schmidt's appetite for the job waned not just because of the China decision, but because Google was struggling to deal with the success of Facebook and increased scrutiny from regulators.
"Google was becoming defensive. All of their social-network efforts had faltered. Facebook had replaced them as the hot tech company, the place vital engineers wanted to work," Auletta writes. "Complaints about Google bureaucracy intensified. Governments around the world were lobbing grenades at Google over privacy, copyright, and size issues. The 'don't be evil' brand was getting tarnished, and the founders were restive."
For a company whose ultimate aim is to serve up "The Perfect Ad" – to use your online behavior to display the ads that you most want to see – Google's inability to land a serious foothold in the social-networking space can only be described a major failure. There's a reason Google is fighting so hard to pry user data out of Facebook. In a way, Facebook is beating Google at its own game.
And then there's the PR issue. If Google's image has been tarnished over the last few years – and it certainly has – much of the blame falls on Schmidt. His haughty, creepy, and occasionally insulting way of addressing the company's approach to privacy is notorious. "Google policy is to get right up to the creepy line and not cross it," he once said, unwittingly showing that Google's policy is just the opposite. His efforts to paint such comments as humor only made the situation worse.
The irony is that when he steps down as CEO, Schmidt will concentrate on communication with the outside world. "As Executive Chairman, I will focus wherever I can add the greatest value: externally, on the deals, partnerships, customers and broader business relationships, government outreach and technology thought leadership that are increasingly important given Google's global reach; and internally as an advisor to Larry and Sergey," he said in a blog post.
And in Schmidt's old job, we have Larry Page, who's famously disdainful of PR. In 2008, according to Auletta's book, Page told the company's PR team that over the course of the year he would spend no more than eight hours on press conferences, speeches, or interviews. This stance – which has, on some level, pervaded the company – is one reason the company is facing an antitrust investigation in the European Union. Schmidt says that people are critical of the company because they doesn't understand how Google works, but the company has hardly made itself easy to understand. And that alone makes the investigation worthwhile.
In recent months, Google has begun to open a bit – to its credit. But one wonders how far the company will go with a CEO who sees so little value in communicating with the outside world. And it isn't exactly comforting to watch Eric Schmidt morph into the company's master of public relations.
But that's the way it is. On April 4, Google's Eric Schmidt era ends. And though we can't say what the next ten years will bring, we can say that Schmidt's reign will ultimately be remembered for three things. He reigned only in part. He partially reigned over the rise of AdWords. And, yes, he creeped people out. ®
Similar topics