EMC wages psych war against NetApp
We're on your case
---
EMC parked three EMC-branded BMW Minis outside NetApp's Sunnyvale HQ on Tuesday (Jan 18) as it escalated the rumble in the storage jungle against its strongest storage competitor, the boys in ONTAP blue.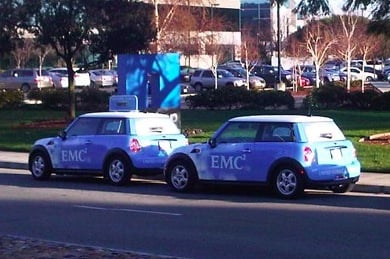 EMC-branded Minis outside NetApp Sunnyvale HQ
Why taunt your enemy in this way? This is the second time that EMC has played such a seemingly childish and mischievous trick. Late last year when NetApp briefed European journalists about its big storage systems upgrade, EMC put up messages on the pavement outside the NetApp building. It also had billboard trucks drive in front of the building.
NetApp blogger and tweeter Val Bercovici suggested EMC's relatively new chief marketing officer, Jeremy Burton, was even vandalising pavements by having EMC signs acid-etched on them.
It's said that Burton is injecting West Coast pizazz into East Coast EMC's staid marketing messages. The record-breaking stunts, such as the motorcycle jump over 41 EMC arrays and stuffing 26 people into a BMW mini were part of that and everyone sees them and says: "What fun." That's normal, well relatively normal, for storage product launches.
But this in-yer-face placement of messages right outside your main market enemy's HQ is something else.
Can these wild gigs, this pissing against NetApp's tree, really come from Burton?
He was hired in March last year, reporting directly to Joe Tucci. He arrived from Serena Software where he was president and CEO, replacing Michael Capellas, and before that, Symantec, where he was a group president, getting acquired when Symantec bought Veritas. Before that he was an Oracle man. There's no visible streak here of marketing wildness, although he did institute a Facebook Friday at Serena, trying to modernise boring mainframe-oriented Serena towards modern social media.
He describes himself as "a marketing guy who's never really thought of himself as a marketing guy." He says everything he knows about marketing he learned at Oracle. He says: "I'm big on messaging" and reckons EMC has to up its (marketing) game. We can: "expect a louder megaphone from EMC" and should see more viral stuff such as videos on YouTube.
The viral videos and branded minis and pavement messages are all of a piece with this and Tucci supports them. It looks as if EMC, seeing itself as like Muhammed Al in the Congo jungle, is trying to psych out George "NetApp" Foreman in this storage jungle rumble, with lots of ducking and weaving and jabbing. NetApp is looking bemused while EMCers are lapping up the attention and thinking, "How cool is that!" ®