This article is more than 1 year old
HTC Desire Z Android Qwerty smartphone
Touch or type
Review HTC may have been making a bit of a splash with its Windows Phone 7 handsets of late, but that doesn't mean it's been neglecting its Googlephone products. The Desire Z, features Android 2.2 OS, plus a slide-out Qwerty keyboard and an HD video camera.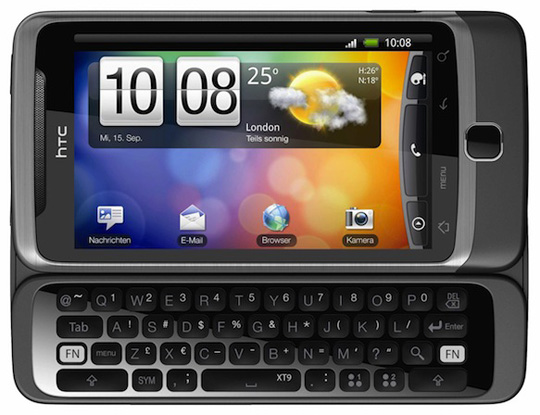 The best of both worlds? HTC's Desire Z
At 119 x 60 x 15mm and weighing a hefty 180g, the Desire Z is not a particularly subtle handset, due in part to its quality metal and rubberised plastic casing, and also the extra real estate of the keyboard.
The 3.7in capacitive touch screen sits above the usual four Android buttons (back, home, menu and search) on a touch-sensitive panel and beneath those is an optical track pad. Around the sides are a volume rocker, camera button and micro USB power/sync port with a power button and a 3.5mm headphone jack on top.
Strictly speaking, the keyboard doesn't actually slide out, since it's mounted on a powerful hinge. It snaps out, with a fairly unnecessary amount of vigour, which took me by surprise at first. Delicate it ain't. A possible cause for concern is the ribbon cable that connects the two halves of the phone which is exposed during opening, which could potentially be damaged as well as attracting dust and other nasties.
As with HTC's previous efforts, the keyboard is well designed and a pleasure to use, with 43 well-spaced keys made of rubberised plastic. There's room for a couple of programmable smart keys, however, these can only be used as shortcuts, not for additional typing characters or symbols.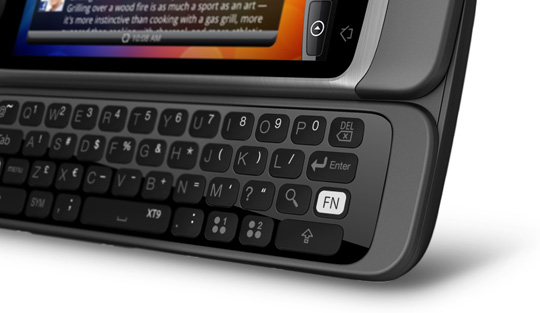 Smart keys are included, but only deliver shortcuts, not macros
Android 2.2 (Froyo) brings a couple of new tricks to the standard offering, including the ability to use the handset as a Wi-Fi hot spot and offering free navigation from Google Maps. Support for Flash video 10.1 is also a welcome addition, and one in the eye for Apple.