This article is more than 1 year old
Tory MP accidentally endorses... German pr0n site
As one does
Red-faced Tory MP Francis Maude last night denied all responsibility for the content of a German SmutSite – and then quietly removed a link to it from his own personal front page.
The embarrassment seems to have arisen after Francis Maude, the member for Horsham, and Henry Smith, MP for neighbouring Crawley, got together to sponsor a campaign for an acute hospital to be built in the Pease Pottage area of Sussex. The campaign registered and made use of a domain – c4pph.org (NSFW) – which certainly appears at one time to have been a perfectly respectable site campaigning on this issue.
However, as an official spokeswoman for Francis Maude told us last night: "The campaign ... no longer owns or operates the c4pph.org web address and hasn't done so since last year. We understand the domain name is now under new ownership with no connection to the campaign."
Instead, the site is now dedicated to what can only be described as Teutonic smut of blitzkrieg proportions, peppered with links to erotic websites, ranging from the innocuous-sounding "how to start online dating service", to rather more racy sites advertising sex chat, cybersex and s&m contacts.
These were separated by what looked like reams and reams of German smut, which, according to google translate, informs the eager local activist: "Your upper body is deep, her ass postal 2 single player moves higher while the dildo slide in deeper and deeper. Swallow everything baby, he told me and pointed his cock elchat on my open mouth."
Or even more suggestively: "Eagerly I opened his pants and pulled him the lowest common divider down along with the briefs. But sex between them was then Aberlour single malt than an exchange of experiences with the fellow."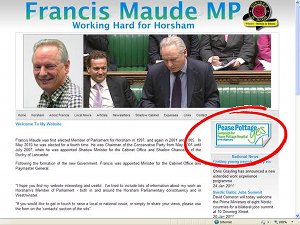 Naughty nurses? (click to enlarge)
Despite this, no one seems to have noticed – or reported – the hospital campaign's apparently bizarre new stance, which has been apparent since at least early January, and until late yesterday evening Francis Maude's home page continued to link through to c4pph (see right).
At some point during the night, and after we asked his office about the link, it quietly disappeared.
While we accept that the pr0n site in question is in no way linked to either of the Sussex MPs above, or to the Pease Pottage Hospital campaign, this episode is a salutary lesson in why it pays to keep an eye on your own website – and just occasionally to check the links on it. ®
Bootnote
It just remains for Henry Smith's campaign team to check out endorsements he has given to c4pph – like this one, still up on the hustings.com website.