This article is more than 1 year old
Intel sings duet with Black Eyed Pea will.i.am
Don't phunk with my Xeon e5620
Intel has appointed Black Eyed Peas front man and multi-platinum artist will.i.am as its new "director of creative innovation".
"Nearly everything I do involves processors and computers," Mr. am told attendees at an Intel sales and marketing conference in Anaheim, California. "And when I see an Intel chip I think of all the creative minds involved that help to amplify my own creativity."
Am – identified in a conference statement as "an innovator, technology fan, entrepreneur and philanthropist," was introduced by Intel chief marketing officer Deborah Conrad,
"We're thrilled to tap into the limitless creativity will.i.am brings to the table," Conrad said. "He's not only a brilliant artist and producer, but also an innovator pushing the bounds of technology professionally and personally."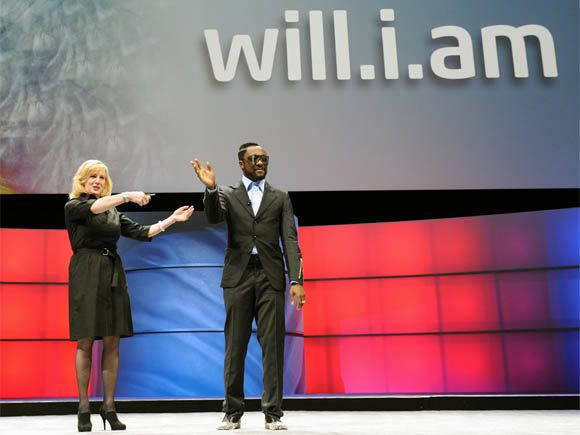 Marketing mistress Deborah Conrad introduces Chipzilla's new 'director of creative innovation' (click to enlarge)
Conrad's words seemed designed to portray the partnership as more than a mere gimmick. "We share a strong interest in innovation around music, art and lifestyle," she said said of am, "and are excited to join forces to establish an authentic, emotional connection with consumers."
Aka William James Adams Jr, aka Zuper Blahq, Intel's new dir.ec.tor will "engage in a multi-year, hands-on creative and technology collaboration" in conjunction with the Chipzilla's "compute continuum" effort, which focuses on laptops, smartphones, and tablets, as well as the much-hyped "internet of things".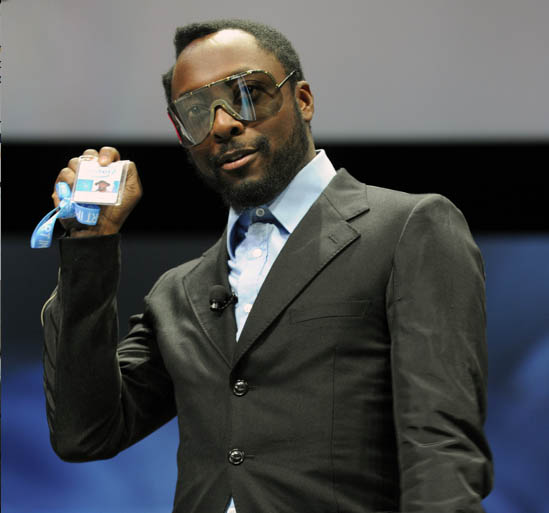 will.i.am displays his newly acquired Intel employee ID badge
Am will also lend his insights to Intel's "visual life" initiative, which focuses on photos, video, movies, and more, and which was much in evidence during Intel's presentation at this month's Consumer Electronics Show.
"Our partnership with will.i.am is a prime example of how we want to convey and deliver the Intel experience," Conrad said, echoing Intel's new marketing focus that emphasizes user experience over processor speeds 'n' feeds, and that was conveyed to The Reg by a company spokesman during CES.
Taboo, Fergie, and apl.de.ap were not immediately available for comment. ®