We're now all used to HDMI, the digital equivalent of the once-ubiquitous Scart connector, the latest versions of which are capable of supporting multi-channel audio, 3D TV and a return channel, so you can feed the sound back from your TV's tuner to a surround sound system.
It has, to be honest, some rough edges here and there. It's not that unusual for people to find odd issues between different bits of kit, such as negotiation failures leading to blank screens, and the ability of one bit of kit to control another is often patchy.
These are all complaints you'll hear quite often if you read just about any AV discussion forum on the internet. There's one that's far less common, however: "If only HDMI didn't need a pesky wire to connect things up."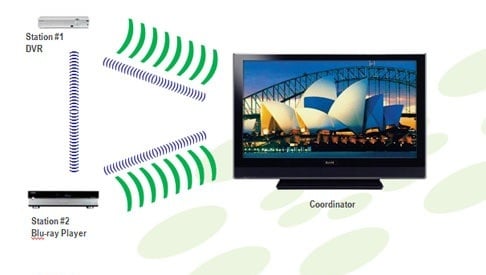 Beam video to your telly - over the air
That hasn't stopped several different groups of companies working on ways of transmitting HD video wirelessly over short ranges. You could be able to, for example, send video from a camcorder to your TV without having to plug it in. And if your TV set is fixed to the wall with all the cables neatly buried beneath the plasterwork, then a wireless HDMI connection could be just the ticket to connect up the latest gadget. So, what's it all about?
The first thing to make clear is that there isn't a wireless version of HDMI that's endorsed by the people who set the HDMI standard. In other words, 'wireless HDMI' is a generic term, rather than a specific set of interoperable products like those with the 'Certified Wireless USB' logo, which was all set to make a big splash a couple of years ago.
In fact, wire-free HD video connections was one of the things that it was suggested the WiMedia standard for ultra-wideband (UWB) communications might be able to provide. However, with a peak bandwidth of only around 480Mb/s, doing full HD was pushing the limits a bit.