Real HDMI?
The two other systems are WirelessHD and WHDI. Both of these are more firmly focused on replacing the display connection. WHDI operates at 5GHz, while Wireless HD uses the 60GHz band. Both claim to provide ample capacity for full HD, and even 3D video.
While the 5GHz WHDI standard can penetrate walls, the 60GHz of Wireless HD operates at a much shorter range and only really works within a single room. Amimon is the main chipset manufacturer for WHDI, and the owner of the "video modem' technology that squeezes 1080p into the 5GHz band. Chip maker SiBeam is behind much of the WirelessHD equipment.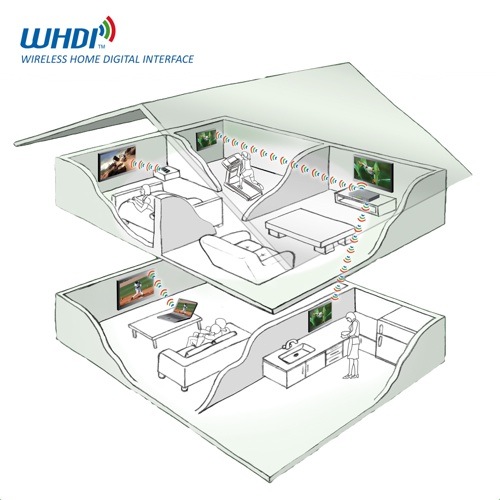 WHDI promises HD video streamed through walls
Many of the major consumer equipment manufacturers have a foot in both camps at the moment, though Panasonic, LG and Sony have all released TV sets with Wireless HD built in, and Haier has announced a range of TVs that will come with a WHDI adaptor to plug into the HDMI ports on one of your other devices.
What to buy?
Right now, there's still a limited amount of wireless HDMI kit available, and it's probably too early to say which will be the most dominant specification in future. But if you want to dip your toe in the water, Cable To Go's WirelessHD TruLink kit contains both a transmitter and receiver and can now be picked up for about £99 online.
If, that is, you're one of the few people who's found a problem that can be solved by wireless HDMI. ®