Deliveries for final Apple Xserves stalled to April
Because 'hardly anyone was buying them'
---
Apple is killing off its Xserve rack-mounted, Xeon-based servers on January 31, but if you thought you could go for one last rack refresh today and get a reasonable delivery, you're about to get your second Xserve-related unpleasant surprise.
The first one, of course, came in early November last year, when Steve Jobs decided he'd had enough of the Xserve business and put it on death row. At that time, Apple told customers they had until the end of January to get an Xserve, and the company produced an alternative server plan involving Mac Minis or Mac Pro workstations with Snow Leopard Server. Because Apple upgraded the Mac Pro with the latest six-core Xeon 5600 processors and the Xserves were stuck at the old quad-core Xeon 5500s, the Mac Pro actually offers a performance advantage. But the Xserve could have been updated with the same faster processors last March - and wasn't - and the Mac Pro is a big ol' fat workstation, not a skinny 1U rack box. No matter what options you take, the Xserve is a real server with real peripheral expansion aimed at real server customers.
So you want one last Xserve drop while you can still get it.
Your second surprise is how long this is going to take: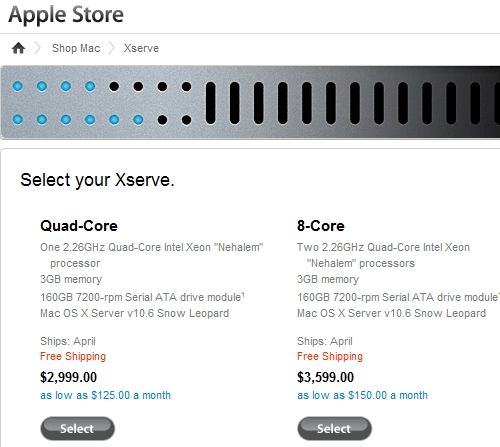 Yup, you are going to have to wait at least nine weeks to get your hands on an Xserve, and possibly longer if orders pick up today, tomorrow, and next Monday. (After that, Apple will stop taking new orders for Xserves, but will take orders for 160 GB, 1 TB, and 2 TB disk modules for the servers through the end of 2011.)
There's no chance that Apple is going to reverse its decision on the Xserves because Steve Jobs has left Cupertino for medical reasons or because demand for Xserves has suddenly (some might say predictably but all would agree temporarily) exceeded supply. It's all about the numbers over the long haul.
French online magazine Mac Generation questioned His Jobsness about the reason for the death of the Xserve back in November, and the site posted this response from Jobs: "Hardly anyone was buying them."
Apple has not given out shipment numbers for Xserves in many years, but six years ago when the boxes were getting some traction, it was only 13,000 units per quarter and even though it was doubling, you need to be selling 10 times that to be a player and nearly 100 times that to be a leader.
While I would be the first to argue that the same intense and clever design philosophy that Apple has brought to its early PCs and its later consumer products is desperately needed in the server racket, Apple is raking in as much revenues each quarter as IBM these days, and is more profitable. Apple doesn't need a server business right now, and it doesn't seem to want one even if it could shake things up if Jobs put his mind to it.
If Jobs comes back to Apple and the company realizes it is going to need millions of servers to reach its cloudy application aspirations, don't be surprised if we see a Yserve or an iServe. Or better still, an Aserve, since it is far more likely that Apple will back ARM RISC processors the next time around. ®