Microsoft is suing its erstwhile general manager Matt Miszewski, after he took a job with cloud computing rival Salesforce.com.
The company has won a restraining order from a Washington state court, which temporarily halts Miszewski from working at Salesforce in his new position of senior vice president of global public sector biz at Marc Benioff's firm, which is based in California.
Microsoft also filed a lawsuit against Miszewski, who had been with the company since April 2007, yesterday.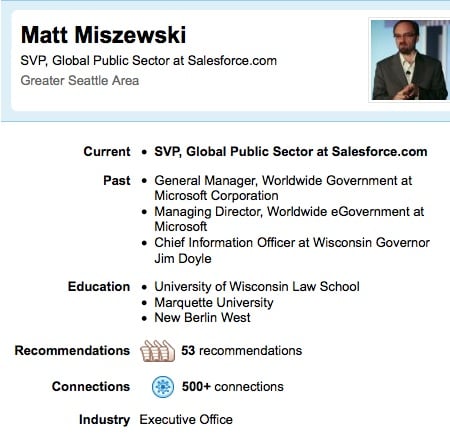 Miszewski explains latest job
The software giant alleged in the 12-page suit that Microsoft's former general manager of its global government business violated his employee confidentiality and non-compete deals with Redmond by taking the Salesforce job.
It's understood that MS decided to file the suit in Washington rather than in California, as restraining orders are harder to stick in courts in that part of the US.
Salesforce is yet to provide comment about the case, but Microsoft issued this statement:
"This case involves an employee with knowledge of Microsoft's sensitive customer and competitive information going to work for Salesforce.com, a direct competitor, in a job that is focused on the same solutions and customers," said Microsoft deputy general counsel David Howard.
"This directly violates the confidentiality and non-competition agreements signed upon beginning work with our company. Microsoft takes this matter seriously and this is a first step in our intention to pursue it vigorously."
A preliminary hearing will take place on 10 February. Miszewski details his past and current jobs on his LinkedIn account.
TechFlash was first to report on Microsoft's legal move against its former employee, and a copy of the filing is here (PDF). ®
Similar topics