"I have measured out my life with coffee spoons" - TS Eliot
It is with dismay that we bring you sad news from one of Britain's most self-righteous boroughs. In Islington, the location for the Private Eye comic strip "It's Grim Up North London", the area's 'Carbon Rationing Action Group' has decided to call it a day. Group members will no longer measure everything they do and exchange the vital information.
"After four years, three complete accounting years, the Islington and Hackney CRAG [Carbon Rationing Action Group] is no longer settling (ie, buying and selling carbon every six months, anymore)," writes John Ackers, a "CRAG-er". That old enemy of sustainability – couldntgiveafuckability – has dealt the movement a setback.
"Four of us wanted to keep going, but two dropped out and two weren't very good at doing the data-gathering," Ackers explains.
CRAGS are a "growing network of carbon conscious citizens", according to the movement's website. The Islington Craggers – all eight of them – had adopted a personal carbon trading. This combines two ideas: rationing, and a virtual currency that allows participants to exchange credits.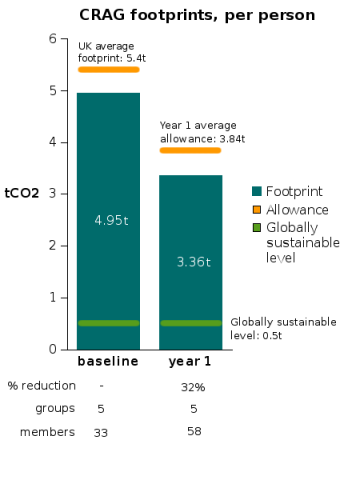 But there were musical differences, too...
"At least one person in our group, our lowest emitter, thinks that we shouldn't trade between ourselves at all."
And there was also perhaps the faintest glimmer of a realisation that the exercise was, on balance, an epic waste of time.
"As a group, we achieved some reduction in carbon emissions but it was less than 10 per cent per year," notes Ackers, before noting that "the other big lesson for me is that 5p per kg of CO2 has virtually no impact on the lifestyle of a typical middle-class, middle-income Londoner."
Personal carbon rationing was again in the news this week in a report commissioned by a group of MPs.