This article is more than 1 year old
HTC DG H100 Media Link DLNA adapter
Phone and PC to TV streamer, anyone?
There's the feeling that the system still takes a bit of refining however. While you can skip through pictures you can't do the same with music or videos, and you'll have to come back to your track listing each time you want to change rather than simply hitting the play next button.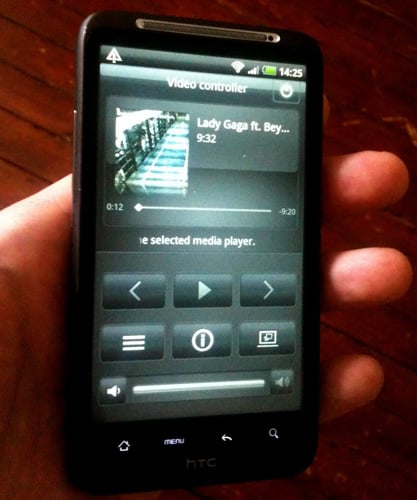 Handset control
Also, you can only play one item of media at a time, so you can't for instance set a soundtrack to play while you view your photos – you either get one or the other. It won't play absolutely anything, although it does support a decent range of formats with 3GP, WMV, MPEG4, H.263, H.264 and xvid video, AAC, AAC+, eAAC+, AMR-WB, MP3 and WMA audio, as well as GIF, JPEG and BMP images.
To stream from your PC you'll need one that's packing the latest Windows 7 OS – so no models of a certain age need apply. Sharing is done using Windows Media Player and you'll need to set your sharing settings to include Media Link. When configured, you can view and control your PC's content from your phone, which then works in exactly the same way as your phone-bound content.
So it works OK, but at the moment you're limited as to what you can use it with. To date HTC only has two DLNA-enabled handsets with the relatively high-end Desire Z and the Desire HD, and other brands' versions are still pretty thin on the ground too.