Samsung N350 dual-core netbook
Slimmer, faster and - ahem - pricier...
Review The debate as to whether netbooks are evolving fast enough rages on. Some say manufacturers are guilty of laziness by continuing to churn out similar models, while others argue that there's simply no need for netbooks to evolve like standard laptops and that more attention should be put into making them cheaper.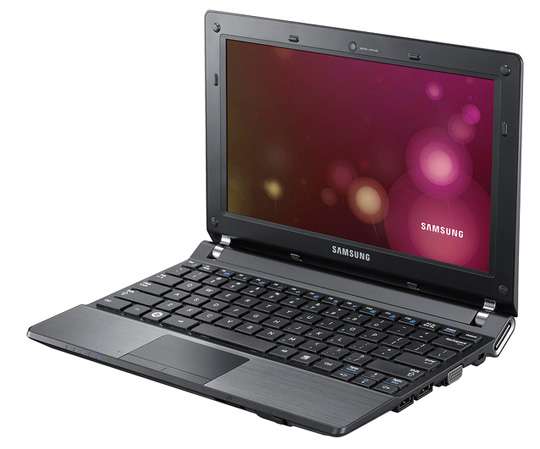 Samsung's N350: not totally dissimilar to the N230
One thing's for sure: this new N350 from Samsung is desperately similar to the N230 the company released towards the tail end of last year. But this is no bad thing. It means you get the same excellent keyboard, with well-spaced keys and minimal flexing, as well as stylish looks and a robust chassis.
However, although it might look like the N230, what struck me when picking up the N350 for the first time was how darn thin and light it is – at just 23mm thick and weighing a mere 1.03kg, it's super portable. Problem is, when you take a look at the specs the reason for its petite nature is immediately obvious: a super-thin battery with a paltry capacity of just 33Wh. In our video-loop test, this meant the N350 could only chug away for 183 minutes before entering a deep slumber.
A slender battery isn't the only change from the N230. As with Asus' recently-reviewed 1015PEM, the N350 employs Intel's latest dual-core Atom N550 processor, which ticks along at 1.5GHz. A single 1GB stick of DDR2 memory backs this up, and although accessible via a dedicated hatch on the underside of the netbook, there's only one slot so an upgrade will require ditching the current module and purchasing a 2GB version.


A slimline design, but it comes at a considerable cost
The big question is whether the dual-core N550 CPU is actually worth having. Take a glance at the benchmark scores and you'll see it clearly has an effect, beating all the single-core netbooks in PCMark05's CPU test. However, it's a very small gain, and in general day-to-day use I found it extremely hard to notice any improvement. Taking the relatively high price of the N350 into account, I'd much rather have a single-core version and save some cash (or get a bigger battery as standard).