This article is more than 1 year old
PSP 2 'as powerful as PS3'
Sony specs up next-gen portable console
The PSP 2 - or "Next Generation Portable", as Sony has codenamed it for now - has officially been revealed in Tokyo today, and the company claims it's as powerful as the PS3.
As rumoured, the PSP 2 - sorry, NGP - has a high-res OLED touchscreen as well as a touch-sensitive back panel. It features front- and rear-facing cameras, dual analog sticks and tilt-sensitive controls.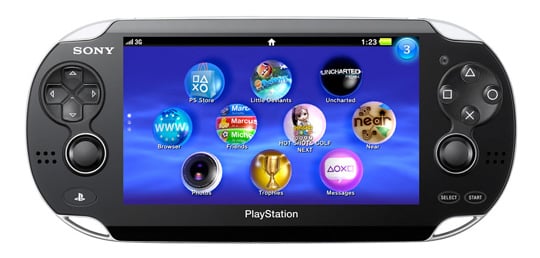 As with Nintendo's 3DS, there is huge emphasis on network play, and the device now packs a 3G connection, as well as built-in Wi-Fi. Every game will feature LiveArena, a communication system for chatting with other gamers through the PSN.
It also features Near, a method for sharing game information between local users and offers an option for virtual link-up - not so very different from the 3DS' StreetPass tech.
The NGP will no longer rely on UMD media, but has an all-new Flash memory card system, which Sony claims will provide super high capacity game cards.
Full specs are as follows:
CPU Quad-core ARM Cortex-A9
GPU SGX543MP4+
Display 5in OLED, resolution TBC
Rear touch pad Capacitive multi-touch
Sound Built-in stereo speakers, Built-in microphone
Sensors Six-axis motion sensing system - three-axis gyroscope, three-axis accelerometer - and three-axis electronic compass
Location GPS, Wi-Fi location service support
Wireless Communications 3G, 2.4GHz 802.11n, Bluetooth 2.1+EDR with A2DP
Dimensions Approx. 182 x 84 x 19mm
Sony went on to announce some of the games it will release. These include new titles Little Deviants, Reality Fighters and Gravity Daze as well as several known titles:
Uncharted
Killzone
WipeOut
Little Big Planet
Resistance
Hustle Kings
Hot Shots Golf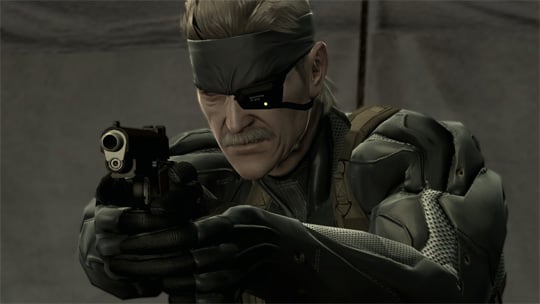 Metal Gear Solid 4, on a portable gaming device? Somebody pinch me!
Third-party developers showed Yakuza 4 and Metal Gear Solid 4 on the system, while Activision announced a new Call of Duty. The Playstation Suite platform, which will appear on mobiles as well as the NGP, is backwards compatible with PSP games and has support for PSone titles and Android based games.
There you have it guys - a portable PS3, apparently. Enough to outclass the 3DS? What are your views? ®