With net unplugged, Egypt cracks down on journos
BBC man beaten by police in Cairo
On Friday, with Egypt's internet and cell phone blackout showing no signs of lifting, authorities took a new tack in their attempts to quell protests engulfing the nation: cracking down on journalists reporting on the uprising.
A CNN crew covering Friday's clashes between security forces and protesters in Cairo reported having their camera seized after police cracked its viewfinder. Senior international correspondent Ben Wedeman said officers threatened to beat him and a photojournalist who accompanied him as they shot dramatic "footage of police in riot gear, clouds of tear gas and masses of people on the street."
Wedeman said he urged police to demonstrate their commitment to freedom of the press by returning the camera but that they declined to do so.
Meanwhile, BBC journalist Assad Sawey was beaten on the streets of Cairo by police. He later appeared on BBC Arabic with his head bandaged and a shirt soaked in blood.
Four French journalists were also arrested by plainclothes police officers, who released them about an hour later.
The media crackdown came several hours after about 90 percent of internet traffic in and out of Egypt was abruptly halted. Jose Nazario, senior manager of security research at Arbor Networks, told The Reg the blackout appears to be the result of a virtually across-the-board withdrawal of routes from the internet's border gateway system. The only Egyptian autonomous system Nazario found to be still up was AS20928 NOOR-AS, which as Renesys points out serves the Egyptian Stock Exchange.
"NOOR seems to be routing some networks but not all, which is what people are seeing elsewhere," Nazario wrote in an email. "No other verified reports of other countries' nets being shut down yet."
Arbor later produced a graph showing a near-complete shutdown of traffic into and out of Egypt across 80 service providers. It began at 5:20 Thursday evening New York time.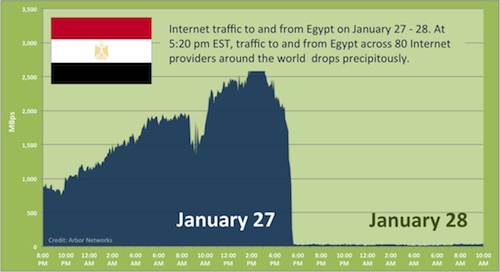 Arbor Networks plots a precipitous drop in Egypt's net traffic
Arbor Networks plots a precipitous drop in Egypt's net traffic
News reports said cell phone communications, both by voice and text messages, were also wiped out. Unable to use the net or a Blackberry, CNN's Wedeman said he was relying on a landline to dispatch his Tweets. An hour later he said he was able to momentarily "have access to internet through alternative means."
US Secretary of State Hillary Clinton on Friday called on Egyptian authorities to "allow peaceful protests and to reverse the unprecedented steps it has taken to cut off communications." ®
Article updated to correct day outage started and to include revised graphic from Arbor.