Dead Space 2
The nightmare returns
---
Telekinetic tech
Don't think that you'll suddenly be fighting through expansive, open environments outside of the starship's confines either, for the Sprawl's corridors and hubs are as scarcely lit, claustrophobic and paranoia-provoking as ever.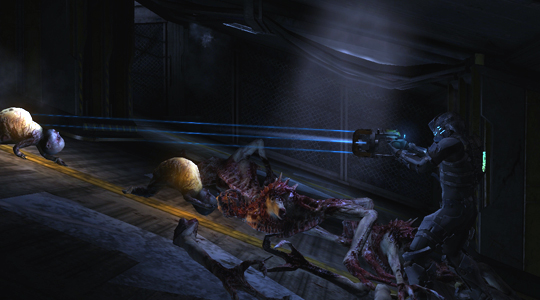 High-death with the blue ray!
Impressive use of dark and shadow serves to create an atmosphere dripping with disquiet, in which every shadow elicits suspicion. The only dependable light sources become the incandescent glare of computer screens and Clarke's torch, handily aimed at the same time as his chosen weapon.
Able to hold four weapons in his arsenal at once, and with stasis attacks (used to freeze the enemy mid-stride) and telekinesis at his disposal, Clarke is at least appropriately equipped once the necromorphs come out to play. In fact 'kinesis' plays an important role in many of the game's puzzles too, as power sources are swapped and traps sprung from a safe distance.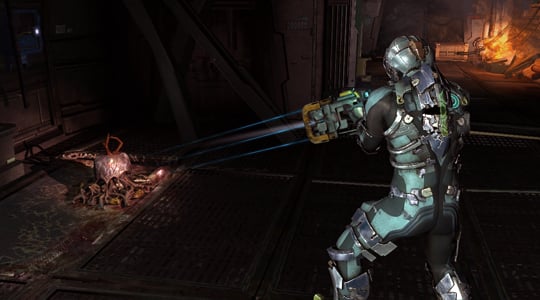 First you must find... another shrubbery!
Dead Space 2 has a new trick up its sleeve too, the top drawer, triple A, set piece. It's around the fifth chapter where this innovative ingredient is truly made apparent, as – without giving away too much – Clarke partakes in a spot of zero-gravity gymnastics, followed by a close-encounter with one of the more gargantuan horrors, all culminating in Clarke fending off waves of attack while snagged upside down.