Dead Space 2
The nightmare returns
---
Survival instinct
It's a thrilling sequence, easily on a par with anything seen in the action-adventure genre, and one demonstrating exactly how far this sequel pushes the existing Dead Space gameplay. As too does the heightened sense of storytelling, bolstered by the inclusion of a fully voiced and fleshed out Clarke, whose relationship with the Sprawl's other survivors drives the plot apace.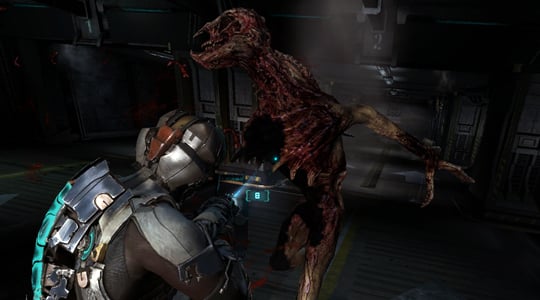 Shooting a load in the corpse
It isn't all good news, however. The flay or be flayed combat is disturbing at first, but something which you'll quickly grow accustomed to. Sure, the slightly-too-sick-for-its-own-good violence never gets any more palatable, but as Clarke habitually slices up a room of foes for the umpteenth time, the carefully built up façade of horror does begin to crack. Brand new varieties of adversary in the shape of Pack and Skulkers provoke some small tactical rethink, but not enough to wave a creeping feeling of monotony.
The fact that the necromorphs attack almost non-stop for the majority of proceedings also serves to dilute the atmosphere. As the Lovecraftian type horrors burst forth from stasis chambers, ceiling vents and more, you might have cause to jump, but the rather unsubtle shocks only diminish the fantastically creepy atmosphere so brilliantly built up during the game's early stages. That these sneak attacks frequently end in sudden (and cheap) death, further weakening the intended effect.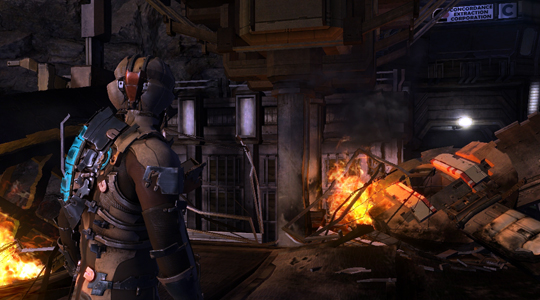 Wreckage makes the eyes glow
Tactics do however come to the fore during the many memorable boss encounters. Refreshingly, the key to victory is usually to hit upon the right tool and tactic for the job, rather than throwing masses of munitions their way – not that the aid of an upgraded weapon wouldn't come in handy of course.