Dead Space 2
The nightmare returns
---
Dead can dance
Workbenches and stores – which allow Clarke to upgrade equipment and purchase supplies respectively – are dotted throughout the Sprawl and are often situated nearby to the more difficult encounters. However, I did find myself on a couple of occasions besting these beasts by the merest of margins – my frustration at having to redo the fight numerous times tempered by the thrill of my eventual success (and this was on 'Survivalist' difficulty, the middle of five potential settings by the way).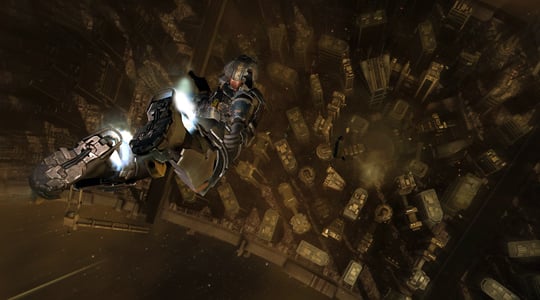 Now if I just open my para.. ah shoot!
A brief mention should go out to the inclusion of a multiplayer mode too. While unlikely to revolutionise the on-line world, the team-based missions prove a worthy addition, rather than mere filler. Objectives for the human team include vying to destroy markers, power up escape pods and so on, while the necromorphs must, you guessed it, stop them. Clear objective marking means newbies will be immediately mission-ready, while success breeds experience, which serves to unlock additional weapons, power and the like.
Playing as the necromorphs draws immediate parallels to Left 4 Dead's versus mode, with players able to pick from Pack, Lurker, Puker and Spitter types, according to taste. Spawning from various hatches and trap doors at the player's discretion, the key is to ambush the human contingent en masse. A lack of objectives other than 'kill the humans' is limiting, but charging at your opponent, limbs frantically flailing, is certainly entertaining.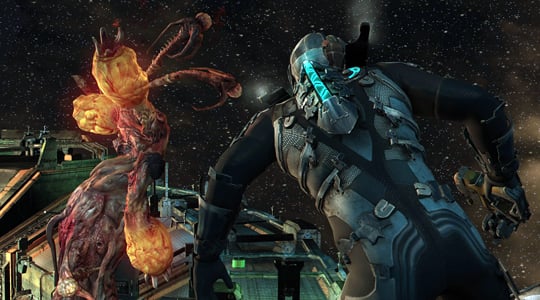 Looks like a warning.. on the back of a cigarette packet
Verdict
By introducing stellar set pieces and a more engaging main protagonist in the guise of a fully conversant Isaac Clarke, Visceral has succeeded in revamping an already great survival horror. Still to be mastered, however, is the subtle art of terror, as a surplus of stomach-churning gore and over-abundance of necromorphs serve to dilute an initially foreboding atmosphere. A great adventure game then, but not quite the fright-fest I'd hoped for. ®
More Games Reviews

Little Big
Planet 2
DC Universe
Online
Mass Effect 2
For PS3
World of Warcraft:
Cataclysm

Dead Space 2
A sprawling nightmare of torn flesh and copious gore as Isaac Clarke returns in Dead Space 2. Available on Xbox 360 (tested), PS3 and PC.