Facebook system messages subverted by French pranksters
Schoolboy schooled me in schoolboy French...
---
Facebook's attempts to crowd-source translations of system messages have been abused by French pranksters.
The French language equivalent of Report/Block this person (Signaler/bloquer cette personne) offers a strange option for reasons why a surfer might want to have nothing to do with another Facebook member.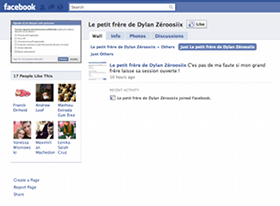 Zéroosiix The Younger already has a fan page (click to enlarge).
Instead of choices such as Fake profile or Inappropriate wall post the French site offers the option (in ungrammatical French) "En discution instantané, Le petit frère de Dylan Zéroosiix m'a insulter" (which translates as "the little brother of Dylan Zéroosiix insulted me in instant messenger").
Facebook sources translation of non-English pages from surfers, allowing a facility for these to be changed as grammar and spelling mistakes are detected. Users vote on these changes. Normally the process works smoothly but in this case pranksters have subverted the process for their own amusement, with regular surfers supporting the wheeze by voting in bogus changes.
No hack took places and the odd option (screenshots and additional commentary in a blog post by Sophos here) is thought to be harmless.
It's not the first time that crowd-sourced translations on Facebook have returned odd results. Much the same thing happened last year with Spanish and Turkish language versions of the social networking website.
Sophos security consultant Chet Wisniewski said that openness is all well and good but that changes to Facebook's site should involve some form of moderation. "It is scary that Facebook believes in openness so much that they will let the users control their website without any human oversight from Facebook," Wisnieski writes. "Hopefully this isn't a real vulnerability in their site that could allow someone to enter in arbitrary JavaScript or HTML code that could be malicious." ®