ARM Holdings eager for PC and server expansion
Record 2010, looking for Intel killer 2020
RISC chip designer ARM Holding has closed out a record Q4 and 2010, and is laying the foundations to expand into desktop PCs and servers through the aggressive and enlightened self-interest of its growing licensee base.
In the fourth quarter ended in December, ARM (the company) had £113.9m in total revenues, up 34 per cent. Operating margins were up over seven points to 30.1 per cent, and profits after taxes rose by an impressive 71.3 per cent to £29.7m. For the full year, ARM had £406.6m in revenues and brought just under £86m to the bottom line.
This is a record high Q4 and financial year for ARM, which is celebrating its 20th anniversary this year and looks poised to expand itself from the smartphone market it dominates into new markets, such as PCs, servers, digital TVs, set-top boxes, and a flurry of consumer and embedded devices.
"There's a blurring between computers and smartphones, and ARM's success in smartphones is helping us get into computing," explained Warren East, chief executive officer at ARM Holdings, in a presentation to City analysts in London this morning.
ARM doesn't sell chips, but rather establishes base chip designs that others license and then modify to suit their own purposes. ARM gets money for the licenses and then royalties on the devices that others make and sell. According to East, more than 6.1 billion ARM chips were sold in 2010, a 55 per cent unit increase from 2009, and the company projecting that unit shipments will continue to grow at a very aggressive pace in the coming decade.
In the fourth quarter, ARM's Processor Division accounted for £53.8m in licensing revenues, up 51 per cent, with royalties bringing in another £81.9m, up 29 per cent. The Physical IP Division, which sells chip packaging technology, had £11.6m in licensing (up 26 per cent) and £12m in royalties (up 8 per cent). The Development Systems and Services Division had £11.6m in revenues and £8.7m in follow-on services sales, down 9 per cent and up 12 per cent respectively. For the year, the Processor Division had £458.4m in revenues – up 36 per cent – with the Physical IP Division getting £85.1m (up 18 per cent) and Development Systems and Services Division bringing in $87.8m (8.3 per cent).
By ARM's reckoning, the company had greater than 95 per cent unit shipment share in the smartphone market in 2010, and is very excited that the market for such devices is expected to grow from 280 million units in 2010 to around 1.1 billion units by 2015. In mobile computers, where ARM-based devices had a 10 per cent toe-hold in 2010, over 230 million CPUs were sold in 2010 and the company is anticipating that 750 million units will ship in 2015. (Mobile computers include tablets, netbooks, and laptops in the ARM lingo.)
East said that in digital TVs and set-top boxes, ARM-based products had a 35 per cent market share as 2010 came to a close thanks to 60 per cent growth by ARM licensees, more than double the 30 per cent growth of this market segment overall. And while ARM has zero market share in servers and desktop PCs, it has high hopes, as this chart shows: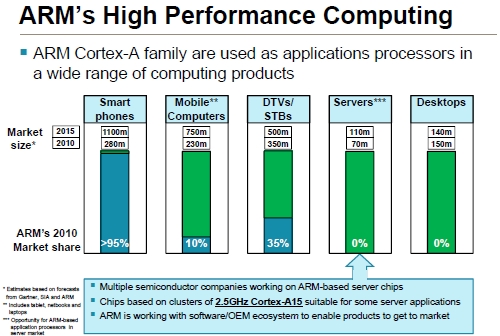 The reason why ARM thinks it has a shot in servers and desktop PCs aligns with why Intel's CEO, Paul Otellini, has said that Intel will not see server sales flag in the coming years.
"More use of the internet drives more server usage," said East. "ARM is very attractive in terms of power savings and potentially cost savings going forward. Cortex A processors support multiprocessing and that delivers the high level of performance required by server applications. In this space, we have zero market share and we have an ecosystem that we need to develop."
As for desktop PCs, East said the situation was much the same, but could change now that Microsoft has committed to supporting Windows on ARM-based devices. That said, East conceded that this is a "very established and capable incumbent architecture" in the desktop PC space. But the volumes in the server and PC rackets – and the relatively high prices for chips (and therefore the royalty stream to ARM) is attractive enough to make a run at it.
ARM reckons that 70 million chips were sold in servers and 150 million chips were sold in PCs in 2010, and that the server sector will consume 110 million units and the PC sector around 140 million units in 2015. Add those together and they are in the same ballpark as mobile computers and smartphones individually in 2010. And in a mobile computer, a chip might bring in $20, but in a desktop PC it will be more and in a server even more. Perhaps something like this bell curve that East showed in his presentation: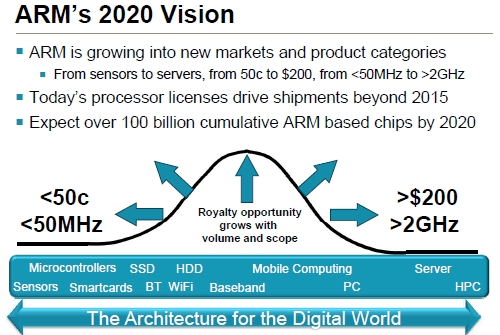 ARM's plan is to range from low-end sensors to high-end servers, from single-core chips that run as slow as 50 MHz and cost 50 cents to multi-core chips that ramp up to 2 GHz and beyond that cost more than $200 a pop. That high-end server SKU has a revenue stream that is 10 times higher than what ARM is getting from mobile computers. And that is why ARM is pumped about servers.
It is a pity that ARM is not moving the quad-core, 40-bit Cortex-A15 to market faster and talking about either 64-bit kickers or how it will manage virtualized 32-bit applications on multi-core ARM servers such that no one cares that they are 32-bit applications. It is very expensive to virtualize six-core Xeon servers with VMware hypervisors, and the server industry is spoiling for a clever alternative.
A slew of startup companies are spoiling to get into the ARM server racket, too, because of the cost and power issues with x64-based chips and their hypervisors. And there is a tidal wave of companies making ARM-based smartphones and tablets. As 2010 came to an end, ARM had 743 licensees, up 35 during the fourth quarter.
ARM estimates that there is a 4 billion unit royalty opportunity for ARM-based chips using its Cortex-A CPU and related Mali graphics chips in application processing (mobile computing, smartphones, servers, and PCs) in 2015. The real-time embedded chip space represents a 12 billion unit opportunity in 2015 and will be addressed by its Cortex-R family, with another 18 billion units addressable with its Cortex-M designs for microcontrollers. ®