Space shuttle Discovery reached Kennedy Space Center's launch pad 39A this morning after a seven-hour, 3.4 mile crawl from the Vehicle Assembly Building.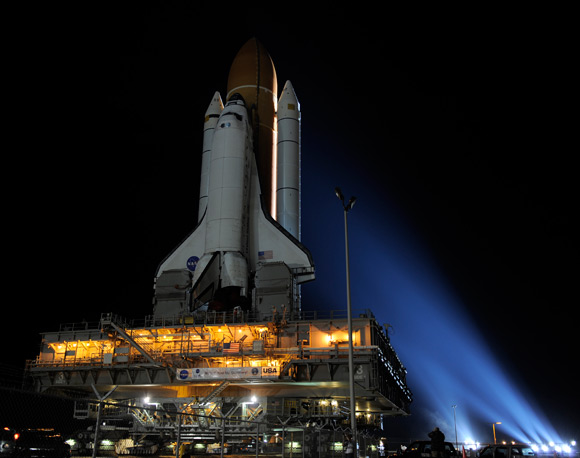 The venerable vehicle is set to blast off on its final mission to the International Space Station on 24 February, carrying essential spares and the converted multi-purpose logistics module Leonardo, which will become permanent extra storage at the orbiting outpost.
On board for the STS-133 mission will be commander Steven Lindsey, pilot Eric Boe, and mission specialists Michael Barratt, Steve Bowen, Alvin Drew, and Nicole Stott.
Bowen has the honour of being the first astronaut to fly two consecutive missions, having last May formed part of Atlantis's STS-132 crew.
He replaces the unfortunate Tim Kopra, who fell off his bike last month and is therefore incapable of "supporting the launch window" – NASA speak for "making the flight".
Discovery has to date flown 38 missions, spending 352 days in space. Its long career – which began in 1984 with the STS-41D mission – includes the first shuttle visit to Russia's Mir orbiting outpost, lifting the Hubble Space Telescope, and delivering the Japanese Kibo laboratory to the ISS.
Speaking of the final flight, commander Steve Lindsey said: "We're wrapping up the Space Shuttle Program. Besides the excitement of completing the International Space Station and all the things we do, I hope people get a sense of the history of what the shuttle is and what we've done and what's ending. Because they'll probably never see anything like it flying again." ®