Review The Archos 101 – that's 'ten-one' – sits at the top of company's range of Android devices that also includes the 43 personal media player, reviewed here. So now, Archos can offer you an Android device with a screen anywhere between 2.8 and 10.1 inches – from a pocket media player to a fully-fledged iPad-esque tablet.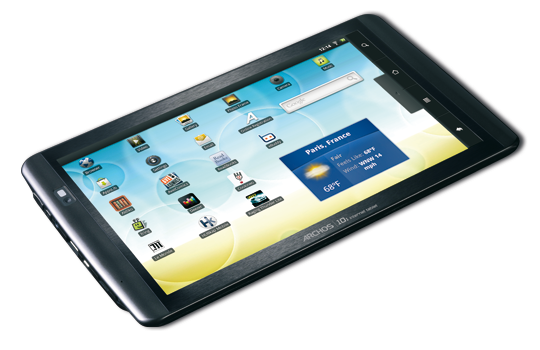 Netbook worrier? Archos' 101
The first thing that struck me about the 101 was how light it was. Despite having a 10.1in screen, it weighs only 480g. That's 200g less than an iPad and only 100g more than the 7in Samsung Galaxy Tab. And at only 12mm thick, it's no more portly than your average smartphone. 
The weight shedding and slimming has slightly compromised the solidity of the device - it doesn't flex, nor does it feel like it will fall apart but you wouldn't want to risk sitting on it either.
The design language of the 101 follows from the 43 – and, indeed, earlier generation Archos media players – with a gun metal grey plastic case, metal flip-out stand and a front that is almost all screen and no bezel. It's smart and restrained rather than inspired and flamboyant, but none the worse for that.
The sleek and minimalist looks are enhanced by all the connection ports including the 3.5mm audio jack being housed together on the left hand edge along with the power and volume buttons, the latter two being the only physical controls on the 101.
Everything else is managed on-screen, which means that like the 43, all the controls are orientated to appear the same place, no matter which way up or around you hold the device. This is handy if you want your cable connections on the right rather than left or if you are holding the thing in portrait to read an e-book.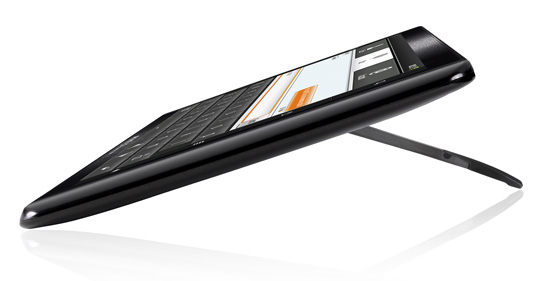 Archos maintains its prop stand stance – a nice touch
In addition to the microSD and mini HDMI portson the 43, the 101 features a full-sized USB A port, which brings with it a host of benefits too long and obvious to list – the most noteworthy being that, while it can only access flash storage, it won't drive an external HDD.