Space probe Cassini, in orbit about the mighty ringed gas-giant Saturn, has sent back a new selection of nifty pictures.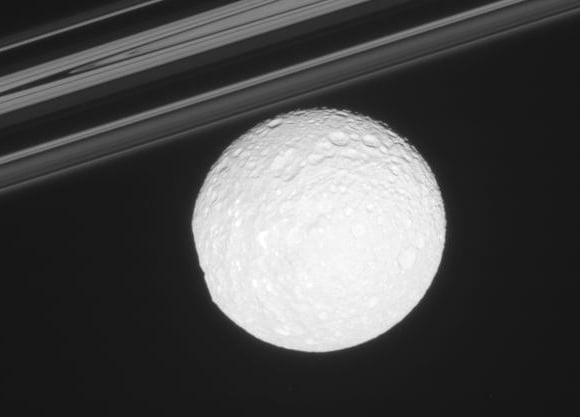 It's not the pale moon that excites me. Well, maybe a bit
The Cassini-Huygens mission launched back in 1997, and made a seven-year voyage to the outer solar system before releasing the Huygens lander into the huge, mysterious Saturnian ice moon Titan - bigger than the planet Mercury, only body other than Earth known to have liquid lakes/seas, and which oddly has a thicker atmosphere than ours despite its lower surface gravity.
Since then Cassini has prowled Saturn's pocket "system" - the giant planet is orbited not just by Titan and its rings, but also scores of other moons (52 of which are deemed important enough to have names). The latest snaps have just been received, according to Cassini boffins at NASA's Jet Propulsion Laboratory:
On Jan 31, 2011, NASA's Cassini spacecraft passed by several of Saturn's intriguing moons, snapping images along the way. Cassini passed within about 60,000 kilometers (37,282 miles) of Enceladus and 28,000 kilometers (17,398 miles) of Helene. It also caught a glimpse of Mimas in front of Saturn's rings.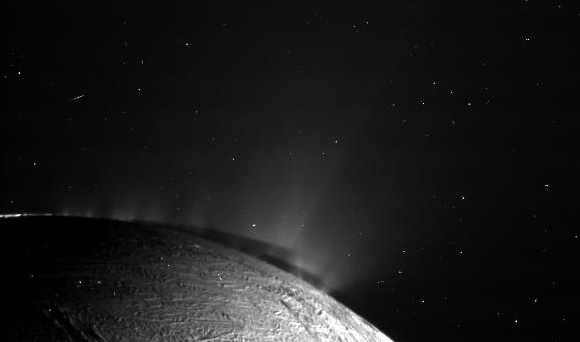 Amazing ice moon polar volcano action.
There are plenty more freshly-received Cassini snaps available to the connoisseur here, courtesy of NASA. More on the mission and spacecraft here. ®
Similar topics