NASA's Near Earth Object Wide-field Infrared Survey Explorer, aka NEOWISE, has wrapped up its survey of our solar system's "small bodies, asteroids and comets".
Over the past four months, it has clocked up a plethora of previously undiscovered objects, including "20 comets (see pic, details here), more than 33,000 asteroids in the main belt between Mars and Jupiter, and 134 near-Earth objects (NEOs)", the agency explains.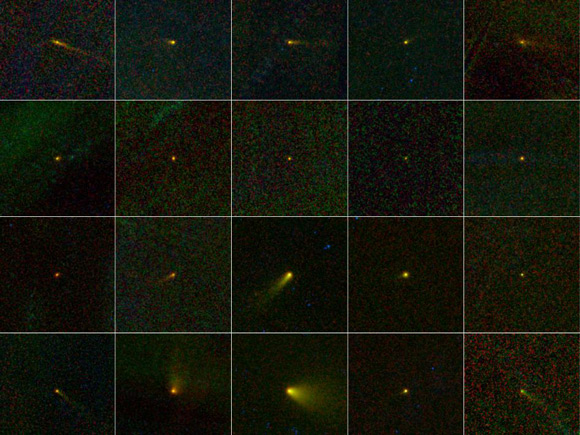 NASA's montage of comets discovered by NEOWISE.
NEOWISE is an extension of the WISE mission, which launched in December 2009, tasked with mapping the entire sky in search of "millions of hidden objects, including asteroids, 'failed' stars and powerful galaxies".
In October last year, after capturing over 2.7 million images, WISE ran out of the frozen-hydrogen cryogen which kept its IR detectors cool. However, since two instruments could still operate at a relatively mild -203°C, NASA decided it could usefully turn its attention to objects closer to home.
That job included a complete sweep of the asteroid belt, which actually took longer than a complete WISE sky survey. Since the spacecraft orbits at an altitude of 525km, passing over the poles 15 times a day and in the same direction as the asteroid belt bodies orbit the sun, it was obliged to "catch up to, and lap, the movement of the asteroids in order to see them all".
Amy Mainzer, principal NEOWISE investigator at NASA's Jet Propulsion lab, explained: "You can think of Earth and the asteroids as racehorses moving along in a track. We're moving along together around the sun, but the main belt asteroids are like horses on the outer part of the track. They take longer to orbit than us, so we eventually lap them."
The first batch of WISE mission data will be released in April. The spacecraft, meanwhile, will be put into hibernation and "could be called back into service in the future".
NASA has more here. ®
Similar topics