This article is more than 1 year old
Denon Ceol with Apple AirPlay
Mini combo hi-fi gets iTunes streaming tech
Review Denon has been holding back on the release of its new Ceol music system until it received an Apple AirPlay upgrade, which happened this week. Now, as well as playing CDs, docking your iPod/iPhone, playing FM/AM and internet radio and streaming music from a wireless network, it can also link up with iTunes on your computer or iOS4 device. Throw in support for Internet streaming services from Napster and Last.fm and you've got a very versatile system.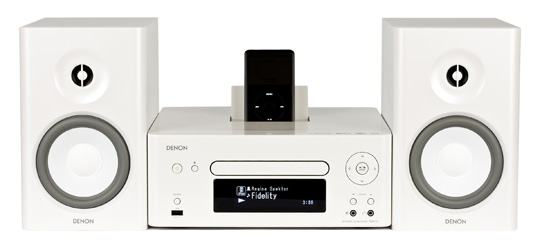 Denon's Ceol features both the RCD-N7 combo hi-fi and SC-N7 speakers
There's been some confusion about the pronunciation of Denon's new box of audio tricks, but for now the company is sticking with kee-ohl (rhymes with keyhole) – Irish Gaelic for music apparently, and reflects the company's base in Northern Ireland.
It's a very neat looking white plastic box measuring 28 x 11 x 30cm and weighing a relatively lightweight 4.3kg. There's a minimalist functionality about it and an almost retro feel in the way it seems to hark back to those early, pre-Touch iPods.
At the front is an OLED screen that will show up to three lines of text (the highlighted one in the middle is twice as big as the other two). Above it is a CD drawer with sliding disc tray and around it are a USB port which you can play tracks from, 3.5mm aux input and headphone jack, plus player controls.
On top is an iPhone/iPod dock hidden beneath a flip-up cover and around the back are stereo speaker outputs, subwoofer and aux analogue in/outputs, optical in, plus aerials for FM/AM radio and Wi-Fi, and an Ethernet port.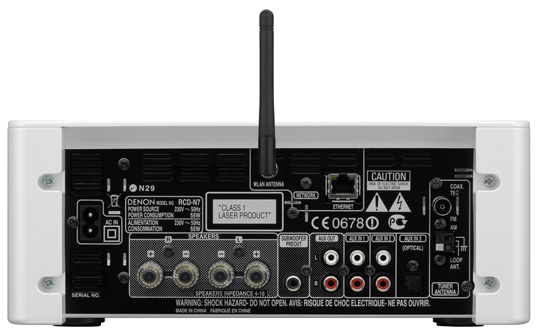 Interfacing aplenty includes both wireless and Ethernet networking
It's available with a pair of SC-N7 standmount speakers from Denon, each with 12cm bass/mid driver and 2.5mm dome tweeter. While they have a nicely tuned midrange with a sweet tone to the high end, there's not an awful lot of power in the bass.