This article is more than 1 year old
Denon Ceol with Apple AirPlay
Mini combo hi-fi gets iTunes streaming tech
Cabinet shuffle
You're not stuck with Denon's drivers though. For £500 or thereabouts you can get the unit without SC-N7 speakers and use your own. The 65W Class D amplification inside will certainly drive considerably more powerful speakers – I tried it with a pair of Quad 12L2s, a chunky standmount with power handling up to 100W, and they turned in a perfectly fine performance, particularly with CD and lossless recordings (it can play Apple Lossless and FLAC files).

The output selection appears in the bottom right corner of iTunes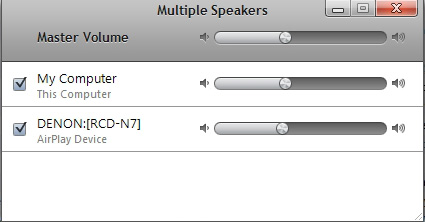 iTunes offers level controls for different output configurations
The Ceol's DLNA capability meant it was easy to connect to my PC and also my Buffalo LinkStation Mini Nas server and play back all the tunes on there. It recognised playlists that I'd set up in Windows Media Player too.
While it worked equally well with both PC and Nas options, as tends to be the way with these things, navigating through your music collection from the three-line display is a rather limited. That said, the remote's alphanumeric keypad does help as it enables you to skip through your track or artist list by simply pressing a letter.
To get you beyond small screen squinting is where Apple's AirPlay comes in. It's available as a Ceol system download and makes the business of sorting through your music collection easier by linking to iTunes on your computer. The catch is that the upgrade will cost you £39, which seems a bit steep, though you may be able to find a dealer who'll bundle it in with the price of the unit.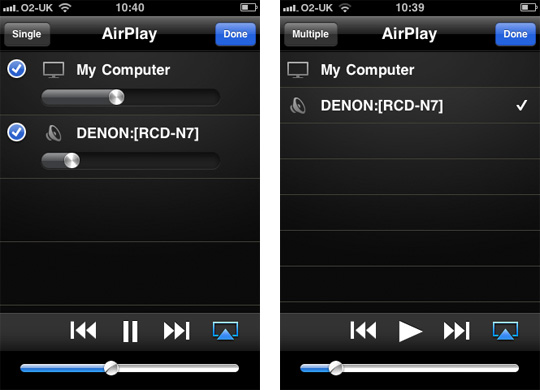 Similar configuration choices appear on the iOS4 devices, as shown here on an iPhone
Once installed you can then select from iTunes on your computer whether you want to play through your computer speakers or the Ceol. Anyone who owns an Apple AirPort Express will be familiar with this sort of configuration.